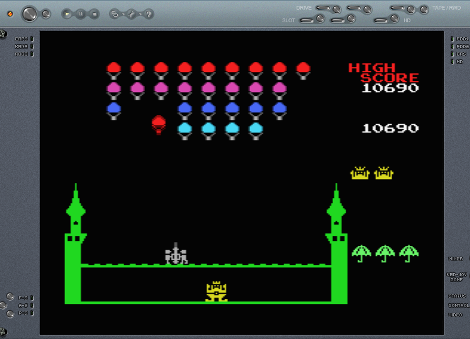 I really doubt anyone would remember this game. Its simply ancient! When I first discovered my MSX emulator I started remembering my old games and searched for them by name. However this game I didn't remember. Then one day as I was playing it just hit me: there was a game with baloons!
There was a game where we used to shoot baloons! What game was that? I remember that I loved it dearly, that we didn't own the cartridge of the game and had to wait to go to one of my cousin's houses to play it, and that we had to take turns and when it was my long awaited turn I would be ecstatic. I searched high and low for this game until I found it: King & Baloons is its name! So the little fella is a king and we are supposed to be defending him y7leelah!
The game is addictive. It literally doesn't change in pace and it doesn't end, but still I would play it whenever I feel there is something on my brain that I need to release and escape from. A great stress releaver for sure.
Do you, by any chance, remember this game on MSX sakhar?