buy prednisone for dogs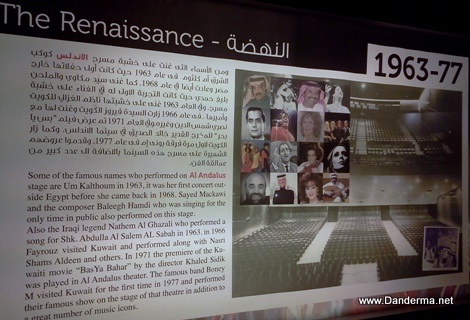 Yesterday I was in 360 Cinescape when I saw an exhibition of the Cinema's History and artifacts in Kuwait. It is so worth a visit and I enjoyed it very much. What caught my attention however is the stars who once sang in cinema Al Andalus. I knew Abdul halim, fairuz,om Kalthom sang there in the golden ages of Kuwait. I didn't know that bands like Boney M did too! O someone who looks like the Opera's Pavarotti but I am not sure and that guy who screams in Rocky Movie and sings living in America -dunno his name-!
I am trying to imagine Kuwaiti men i the 70's, big hair or long hair with Charleston trousers filing in to Al Andalus cinema and dancing to Daddy Cool and No Woman No Cry! What happened? Why do we have to board a plane to Dubai and Abu Dhabi to listen to good music? In the SIXTIES and SEVENTIES of the past CENTURY we had bands playing in our country… why can't we have the same in the 2nd decade of the 21st century? He who wants to listen can go listen, he who doesn't want to can stay at home. Live and let live!
I want to see Ballet, Swan Lake, Lord of the Dance, Opera, Fairuz, something… anything in my own country. It's not my fault I was born too late in the 80's y3ni!
Getting rude and disrespectful comments goes hand in hand with blogging. if anything it means that you are going in the right direction for you have triggered someone to attack you.
What i don't understand though is why the volume of rude comments significally increases whenever i start posting about London?! Why Q8y people are taking those posts as personal insults against them is beyond me!!!
It's not like i am saying you flan X don't know London or you flana Y ma etdeleen London. It's not like i am the first Q8y or Khaleji or Arabi to set foot in London. London is filled with Q8ys who live/study/work/visit there and know it like the back of their hands. I am just another one of those. I have a camera and i take pictures of whatever i do when i visit there and post it in MY BLOG!!! That's it!
It's my blog and i am FREE to post my memoirs and my experiences and my trips and my purchases and share them with friends, family, and the rest of world. Ma feha shay y3ni! It's not like ini ga3da atshay7a6 3la el awadm o I am not saying that i am Christopher Columbus who discovered all things London and you didn't. and to think i am posting about London because you are clueless and i am not is something from your imagination… lakin i guess inah kil min yshof il nass ib 3ain 6ab3ah… mo?
To you… you know who you are. Grow up and get a life. Elle 3la rasah ba67a ye7asesha welle mo 3ajbah any of my posts, London or other, the solution is to simply click the X icon on the top right corner of this page, no one is forcing you to come here and you cannot expect me to write whatever posts that make you happy… understood?!
Hypocricy and Prejudice Personified… That's What u R…
Who do u think you are? No, really… who are u to treat me that way and ruin my already prolonged busy day!
Do i have no other worries in the world but You?
U want to know what happened?
I have been insulted. By a stupid hypocrite. Read more »