The Kuwaiti Student Organization at Kansas State University held a National & Liberation Days event on the 25th of February on campus in Manhattan, Kansas. The event was attended by the Kuwaiti students at Kansas State University as well as students and faculty from all around the world.
The guests gathered around to celebrate.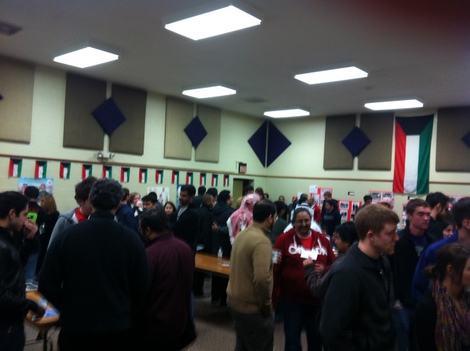 Chatting to the guests.
Faculty members showing the Kuwaiti spirit. Wanasa y7leelhom!
The guests being shown around the gallery showcasing Kuwait the past, present, and the future.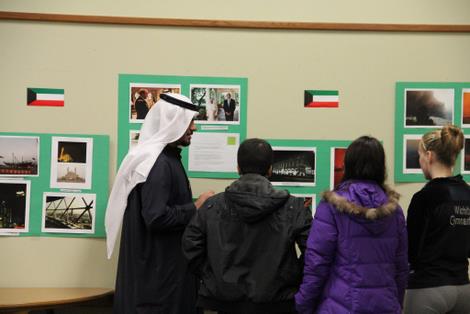 Even kids were celebrating

Students joining in!
Many booth's were set up around the room which included taking photos of the guests in the Kuwaiti clothing, writing their names in Arabic and Kuwaiti girls drew henna patterns on the female guests hands.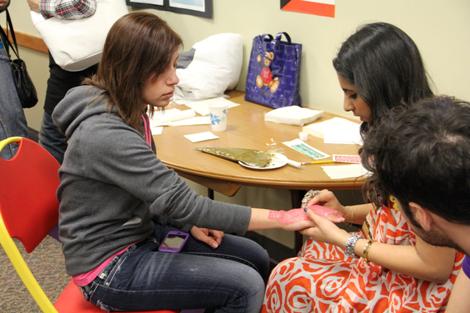 Shabab el Kuwait in traditional dishdasha's.
Of course no Kuwaiti event is complete without serving Kuwaiti snacks and desserts throughout the event and concluding with a Lamb machboos dinner that everyone enjoyed. I wonder who cooked that though? Do you guys know how to cook machboos?
Kuwaiti students who participated in the festivities.
The executive committee of the Kuwaiti Student Organization.
Gawakom Allah shabab o banat ma ga9artaw. Insha2 Allah kilha chan senna o you are back bel shahada to celebrate with your families back home

Thank you Yousef Al Sharif