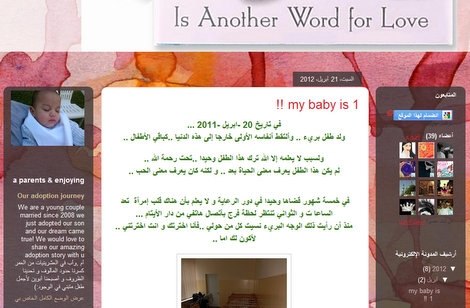 I was browsing Instagram yesterday when I saw a comment by New Q8 Bride on one of the pictures regarding her sister. Minutes later and I realized not only her sister is the spitting image of her –twin likes, really- but she is young, married, and has a small little boy Hamoodi who is adopted.
Yes you read that last word right, adopted. I had to do a double take at the pictures on Instagram and her blog. If she didn't use the word "adopted" I wouldn't have though for one second that the boy wasn't their own biological son. I saw the huge birthday party they had for him in her father's house, the gifts, the way the boy is hugged with all the love in the world, not only by the couple but also by her father. I was so touched that a child in Kuwait can find a family to welcome him and give him a life he deserves with adoption.
That baby is so lucky to have found you, Um Hamoodi & Bu Hamoodi. This is not brave, this is beyond brave! She is the first person in Kuwait that I know of who had adopted a child to be frank, shameful to say the least given that Islam doesn't ban adoption, on the contrary. What is banned in Islam is giving the adopted child your last name but not the actual adoption.
To be quite frank I don't think the families in Kuwait have the emotional sophisticating needed to love a child who is not their own. People are barely tolerant of their own children, throwing them for nannies to raise or letting them scurry off as they please just so the responsibility of raising them doesn't become a burden. Or if there are multiple siblings they don't divide the love and attention fairly among them. Of course this can be found all over the world not only in Kuwait per say but again I think times are really changing indeed.
By the time I asked for the girl's blog address I had tears streaming from my eyes. There is even a youtube video which made me wail. I would understand a woman wanting to adopt a baby given the maternal instincts some women have can become unbearable but for a young man to go along with it and actually want it? For them both to face society with the baby and have to answer to their looks, disdain, prejudice, and sheer leqafa? It's the bravest thing a young Kuwaiti couple has done so far.
Um & Bu Hamoodie, you and your families have my full respect. You showed me that even though we feel like the world around us is falling apart, there is still hope with people like you who actually make a difference. May Allah bless you o Allah ybal'3kom ib Hamoodie me3res insha2 Allah

You can know more about her adoption journey on her blog (link).