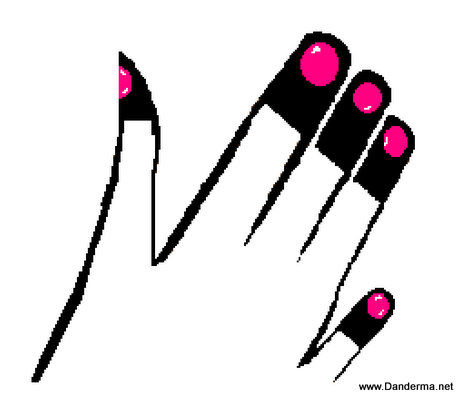 Last year it was the Henna glove (post), this year it seems to be the Henna fingertips in blackest of black.
I've seen several pictures online and on instagram of stylish girls sporting the black henna fingertips in black. Some keep the fingers black, others paint the nails some crazy vibrant color that will shine against the blackness of the finger tips. I couldn't use any of those pictures since they are the people's own y3ni so I drew my own version :p Excuse my artistic talents but I guess the idea is clear.
What do you think? Myself? Well, ever since I was a child I've loathed henna. I hated the smell, the way they made pouches out of your hands covered in fabric, the tint of orange, the mess. I might have been the only little girl in the 80's who ran a mile away whenever I saw or smelt a whiff of henna. Never a fan, never will be.
As a child one of my aunts told me, in order to get me to put henna on, that heaven smelled like henna and I started screaming hysterically that I didn't want to go to heaven. I didn't calm down until I was told I had the option to not smell henna in heaven. God only knows how true that is.
Anyhow back to the moment. I have to say I liked the henna glove better. Black fingertips look like something had caught on fire and was burned badly. Its kinda scary unless you are going with a goth look which, for the love of god, don't since only 0.5% of Kuwaiti girls can pull that off. I wonder how it would look on an bright orange tan though?
What do you think? Would you go for the black henna fingertips habba?