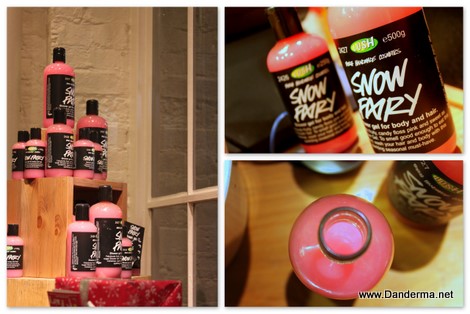 Years ago I stumbled across Lush soap store during Xmas time and I found a little pink shower gel bottle with little glitter pieces sparkling on it. I took a whiff and fell in love. It was a bottle of melted candy cane flavored bubble gum disguised as a shower gel.
Since its a Xmas special and not available year round we made sure to stock up on our favorite shower gel -big bottles, several ones, tried to eat it once, didn't taste good btw-. Even though Lush is now open in Kuwait I've been there like once and I am not really sure if Snow Fairy is available during December in Kuwait. I still stock up from here. It goes really well with my favorite sugar scrub too (post).
If you didn't try it before, now is the time. Getting the little bottles as souvenirs in a little bag with the sugar scrub, the lip tint, the bubble bath star thing, and the powder   will b spectacular as well.