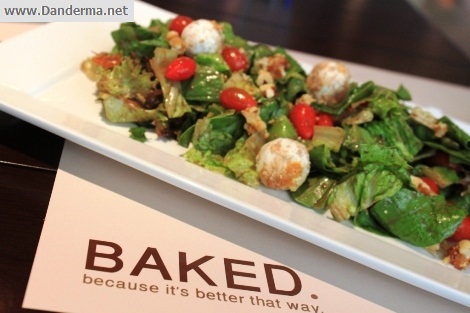 My friend Farah the owner of Baked told me that her restaurant is finally open in 52 Degrees. I was so happy for her I have decided to drop by on Saturday afternoon for brunch.
The weather outside was horrible, it was windy and dusty but i didn't care, we went to 52 degrees around 2 P.M. and took the elevator up to the first floor.
The moment we stepped out of the elevator we were met by Baked's chic modern chairs. Of course I whipped my camera and started taking pictures.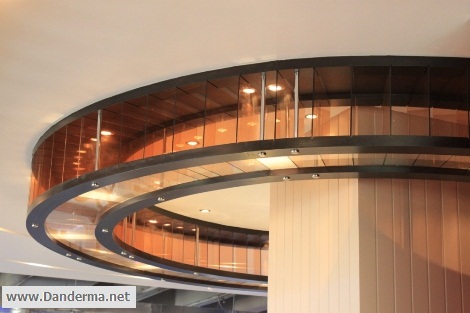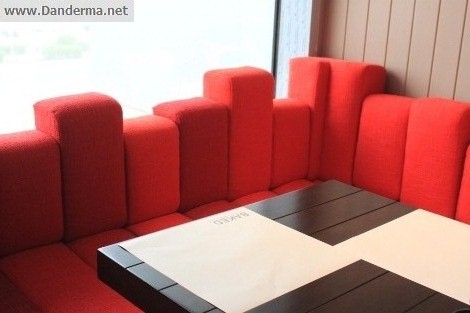 I loved the design of the place. Modern, clean, elegant, and minimal. No mess and no fuss. Even though the entire place was in beige and brown at the very end near the window was a corner of very funky red cushions! Of course that's where we choose to sit.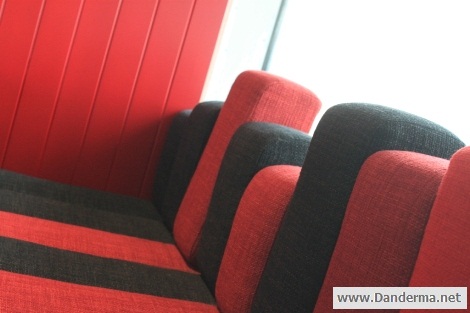 The menu was a laminated sheet of paper filled on both sides with delicious dish. On one side it contained the appetizers, the salads, and the mains. The second side however was entirely dedicated to desserts. It is called baked after all.

Do you recognize this cake's name? From the competition we held on my blog (post)?
Any way we placed our orders: two appetizers, one salad, and one me main dish. I wanted to have dessert later on so i skipped the main dish.
I got my Diet Sprite in a cold frosted cup, something I appreciated. While I waited for the food to appear I went around and snapped the food display.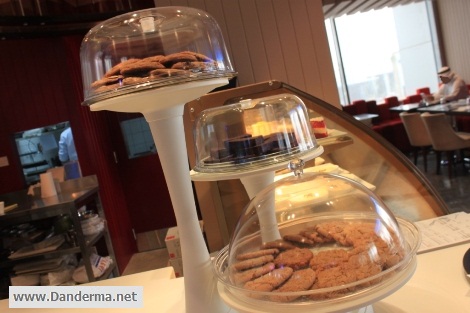 Check out the red velvet cake with the layer of cream cheese
Their whoopie pies, remember them from here (post) and here (post).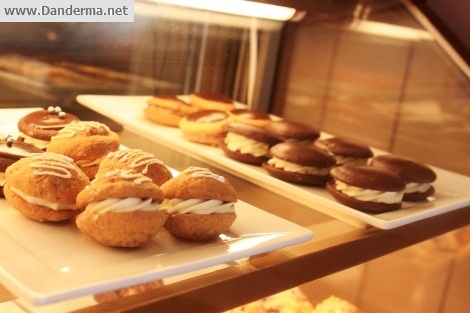 Cups filled with brownie pieces and drenched in yummy sauce.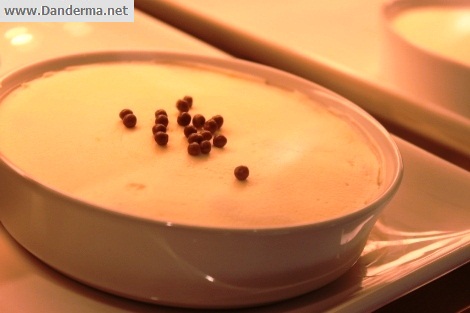 More cakes and pastries.
The Pinapple Delight, remember her y7leelha?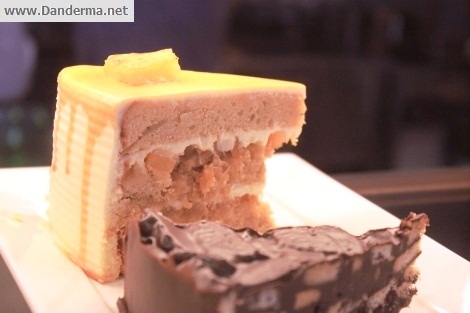 As I went back to my seat I was first introduced to the lovely potato balls.
When I read potato balls on the menu I thought they were going to be one of those frozen round potatoes everyone buys and thrown in the fryer. I wouldn't have minded because I was craving fries so what the heck. I was very much mistaken.
The description on the menu was 'Potato balls filled with cheese and comes with 3 kinds of sauces". How was it? Delicious! Made from scratch, filled with a hint of tangy cheese, and absolutely scrumptious.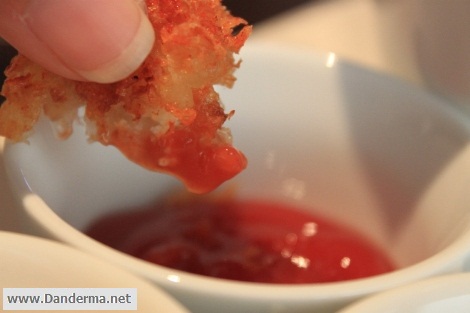 Can you see the cheese subtly oozing out?
Mmmm that was a good dish indeed. Next came the Goat Cheese Salad.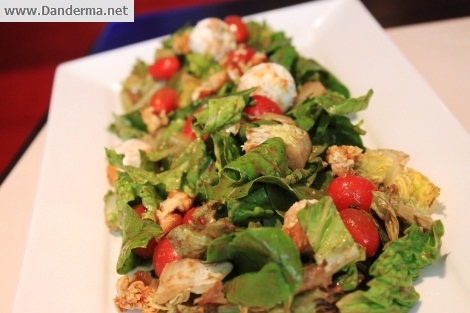 Even if you cannot stand the taste of goat cheese, you've got to try this salad. The dressing is superb, you are hit by a minty tangy flavour with the first bite. The sauce is just right, the soft crunch of the greens with the smooth creamy tangy bite of cheese and the hard crunch of sweet caramelised nuts with the juiciness of the cherry tomatoes is just lip smacking.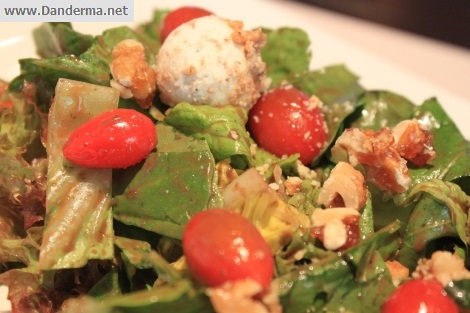 Check out the caramelised nuts.
It was so good, I am smacking my lips and thinking that I might stop by tomorrow after work just to have that salad for lunch.
The next dish, Eggplant Melenazene, was recommended to us by the owner. I didn't originally order it because I'm not really a fan of eggplants. But she said that dish is a must try so we ordered it.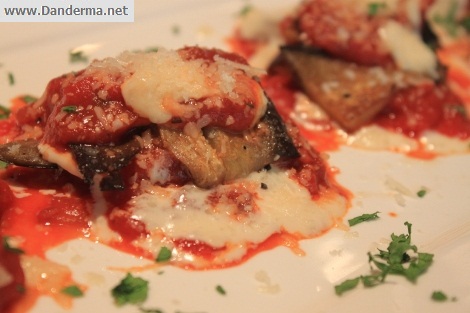 How good was it? Well, for a person who doesn't really like eggplants I polished the dish off. When the owner came to check on us I was, literally, scraping the amazing tomato sauce mixed with the creamy bechamelly cheese of the plate with my spoon. I wished they had some bread to help me soak every last morsel of sauce but the bread will be served starting next week.
The only main dish we ordered was the Lemon Beef Linguine. Linguine Pasta with roast beef tenderloin, red pepper with spicy lemon sauce. According to Butootee it was really good and really different. Not something you find in every other restaurant. It is definitely worth a try.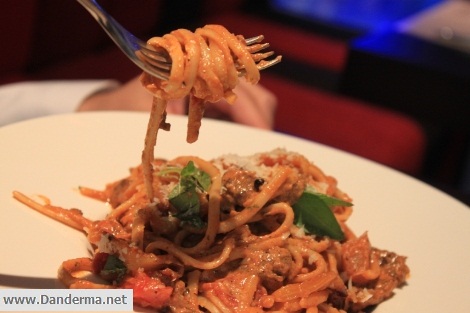 Then it was time for the desserts! We ordered a white cake with berries.
I loved the presentation.
The taste? out of this world! So moist, soaked with berry juices, and melts in your mouth. I will call this cake berrilicious. Kaifi.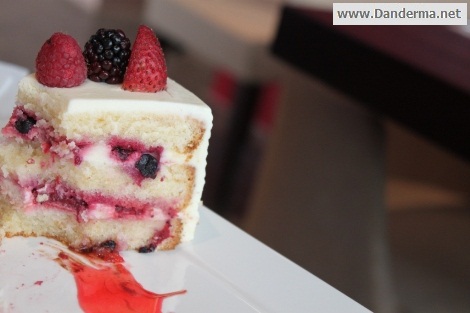 Next came the Pièce de résistance, the red velvet molten cake with cream cheese filling <3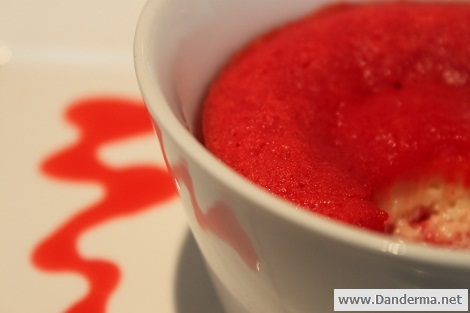 It was really really good. The cream cheese was so luscious! yum!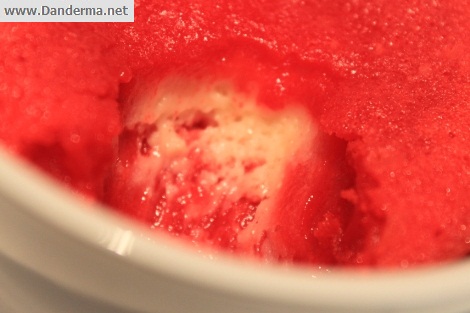 When I asked to see the tea selection we were presented with a box from the speciality tea store in the Avenues, Tea Gschwendner.
Butootee chose chamomile tea.
I ordered American Coffee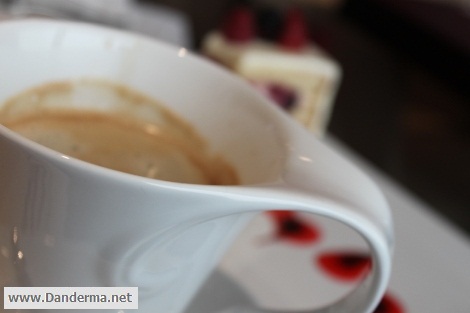 We took our time, lounging on the plush couch and chatting, enjoing our food. It was such a relaxed meal, we never wanted to leave to be frank especially considering the weather outside was even windier and dustier.
What didn't I like about the place?
Well the portions are huge for EVERYTHING! The coffee, the pasta, the red velvet molten cake. They were very generous with their portions indeed, some people might love that, but I would have been more content with less portions to "fight the temptation".
Also, they didn't serve us anything when we sat at first, they had no napkin holders and no ashtrays on the table. Also, they don't offer decaf coffee or fresh juices yet. But Farah assured me that by next week all of these details would be smoothed out and they would start providing yummy bread and dips for people when they first arrive.
The service was quite good, fast, and efficient and the staff were very friendly! I am truly impressed because they have been open only since last Tuesday!
Our bill came to about 20 KD. Not bad given that we ate half the menu. Oh and they do have Knet which was pretty convenient.
All in all, I have a new favourite restaurant to make the top ten favourite restaurants of mine in Kuwait. I might post about it one day, Baked did make the cut.
Baked is located in 52 Degrees. For more information regarding baked check their facebook group (link).
---
11 Responses to "Review: Baked Restaurant in 52 Degrees"