http://cakebysadiesmith.co.uk/wedding-cakes/country-wedding-cake/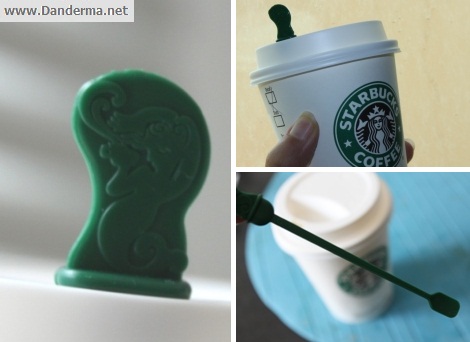 Last Friday I had gotten a Tall Decaf Irish Cream Skinny Cappuccino for breakfast from Starbucks and when I received it I found the sipping hole was plugged with a plastic green thing. I took a closer look and I found the Starbucks mermaid itched on the plug.
I am not sure how new it is but to me its quite new, I've never seen it before. I was happy because it meant the cappuccino didn't spill all over the place leaving me with half a cup drink. As I took out the plug I was surprised to see that it was in fact a plastic stirrer as well!
Now that's awsome! It serves two purpose: Act as a stirrer and plugs in the drinking hole! Whomever came up with that idea deserves to be a millionaire. I wish I could come up with such simple brilliant ideas.
---
8 Responses to "The brilliant Starbucks Cup Plug/Coffee Stirrer"