transcendentally
I am overwhelmed by all the love, support, kind words, and sincere wishes I have recieved yesterday. I never knew I was that popular :p I was literally spoiled!
If you follow me on twitter you would know that I had an alternative plan of bolting to Dubai yesterday. I was freaked out! What if no one showed up o enga9 wayhee? After all el nass ya finals ya flu! What if I freeze while I am supposed to talk, or rip something -I did- o atfashal?
The first thing I saw when as I walked through the doors shaking like a a leaf was Pink Girl already clicking away and taking pictures for her post Masha2 Allah 3leha. I was happy to see a friendly familiar face and she took away my camera and took all those pictures in this post for me 😀 Amazing mo? Love you girl :*
I was then told that I had received a bouquet of flowers… I walk over towards it wella its a HUGE flower arrangements as tall as me with lovely tulips and roses. It was from the VIVA Social Media team! Those guys just won't stop spoiling us! Thank you so much VIVA guys it was truly amazing 😀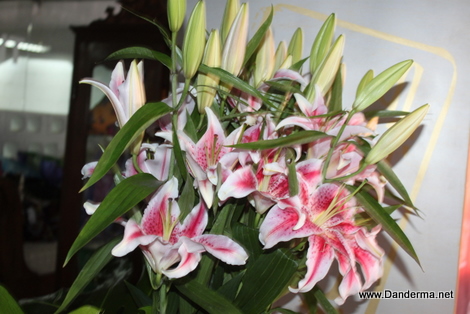 I was seated in a long table with name plates in the center of attention in front of long stretching rows of red chairs that were filling up quickly by then. Of course we in Kuwait are always fashionably late -I arrived at 7 :p- so the introduction was delayed till 7:30 instead of 7 PM.
The books were presented nicely for the audience… look at my Dathra book ya7leelah 😀
The talking began, my heart was beating so loudly but I guess I did all right -judging that the audience didn't laugh or anything- and the scary moment passed. I relaxed and listened to the other talking about their books.
Then the Q&A session started and Tareq Al-Ali who was there to support one of the guy authors took the mike and gave a little speech. Check out the beautiful VIVA bouquet peeking from behind him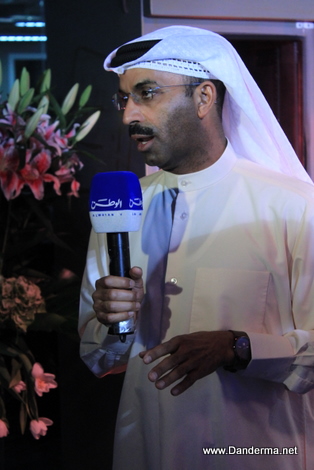 I answered a question about why authors were always on the safe side and won't breach certain boundaries while they are writing, and people actually clapped for my answer! Wanasa!!!! Hehehe :p
Then it was time for the audience to grab their books and get it over for the writers to sign.
Bema inna infotha7na o khala9na I don't suppose there is a point not showing my self on my blog… here I am smiling for the camera *waves hello* 😀
Many people came most of them you my friends and my fellow bloggers who made a point to support me last night. There was a nice line of friendly people smiling while I chatted and signed their copies of Dathra for them. I loved meeting every single one of them. 😀
A lovely couple even came bearing a gift for me!!! A lovely box filled with a hidden box filled with chocolates from Dubai that I very much enjoyed while I munched on them in bed last night while I checked those pictures… Thank you Shaikha & Waleed 😀
By the time we were done with the book signing the Blue District night was on so we grabbed a table in Choowy Goowy and we enjoyed a delicious dinner and good company while we listened to the tunes of Zak Al-Mousawi.
Am I done yet? No, wait guys for my next post… I have a surprise for you 😉
Check out my fellow blogger's coverage of the event. Particularly my picture taken Masha2 Allah by BananaQ8 which could possibly be the best picture of me ever taken (I am not photogenic at all)… I will update the list when other fellow bloggers publish their posts

Pink Girl (Has a Video of my speech)
---
48 Responses to "The Book Signing Night at 52 Degrees"