The first day of the diet is always the worst and most dreaded day. I consider day one as quarter the diet battle. I hate day one. I am always glad to get rid of day one. How was my first Fahad the Diet Ninja Diet day? Surprisingly not bad at all.
Yesterday I went to TSC and bought my self my diet supplies. There weren't many to be frank considering that I have very limited options -aside from green veggies- and when I came home I tried to rehydrate the Red Kidney Beans using the Mayo Clinic Gas Free method which also promises to get rid of the gas causing sugars in the Red Kidney beans. It needed to be soaked over night which I did.
I woke up groggily, dreading my egg breakfast. I used the pancake pan to turn the eggs into an omelet without a single drop of oil.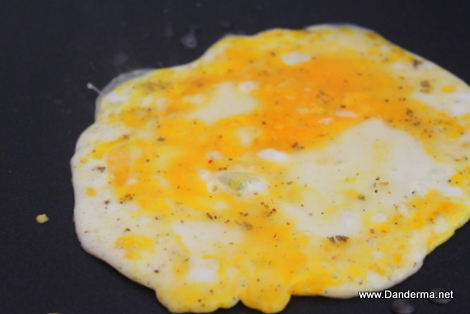 Then I rolled them up and cut them into bite sized rolls. Not bad. The eggs turned out to have plenty of oil on their own wallah! I was surprised.
I measured my cup of baby carrots (125g), filled my coffee tumbler with white tea which wasn't bad at all and tasted much better than green tea, and set off for work. It took a long time to finish up my breakfast with all the carrot nibbling. It was a tad boring of course but not bad at all. I didn't feel hungry afterwards till my next snack.
I have to say I enjoyed every bite of that sesame bar. I missed my usual treat at work and it was familiar and reassuring. But by the time I was home I was a little disoriented. Not hungry, not really, just a bit dazed. I am guessing its because I miss my coffee cups.
Lunch for today was a version of beans salad of mine. Cucumbers, Mint, Parsley, Red Kidney beans, Feta cheese, Pomegranate, and a mustard vinegar lemon dressing -no oil-. I added a pinch of smoked paprika and mixed it all together. El pomegranate must be in season for they were so juicy and red and dyed everything within a 10 metre radius in the house red :S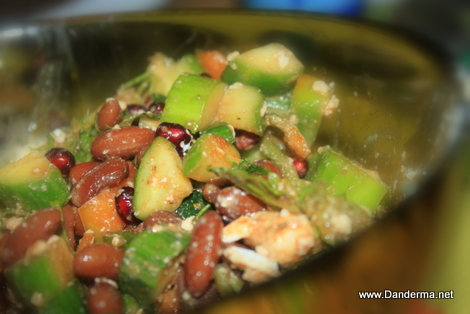 I tried my best to make it look more appetizing but I couldn't. It tasted amazing and really fresh though. The bloody kidney beans had still some bite to them so I am soaking them up till tomorrow to see how it goes.
After lunch I had a headache, I grabbed my cover and slept on the couch until almost 9 PM. My plans for shopping were ruined so I just went to run some errands and got my self a nice plain frozen yoghurt from Zero Degrees as instructed.
I keep drinking water though, I am very thirsty. But as far as other diets are concerned day one is quite breezy. No hunger pangs, no cravings, just a bit of a headache and emotional hunger, as in you long to break the diet in fear of being hungry kind of feeling. It will go away by day three -hopefully-.
I didn't even feel that hungry when I saw my husband come home with a bag full of steamy Iranian bread then making him self a big open sandwich with Kraft Cheese, smoked Turkey, BBQ sauce and veggies… I didn't even notice him eat it, practically because I still feel a bit spacey.
Day one done. Weight X9 where X = sowad wayh ma yengal. 13 days to go till my free day and my birthday 😀
---
2 Responses to "Diet Ninja Camp Diet – Day One"