convexly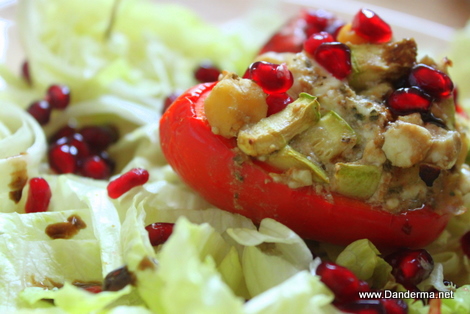 Its day four and Fahad the Diet Ninja said I can use half a red pepper for my lunch today, so I made this very quick, easy, and yummy dish with the ingredients I am allowed to use for lunch. This recipe is Fahad Approved and Gluten Free for my gluten intolerant friends.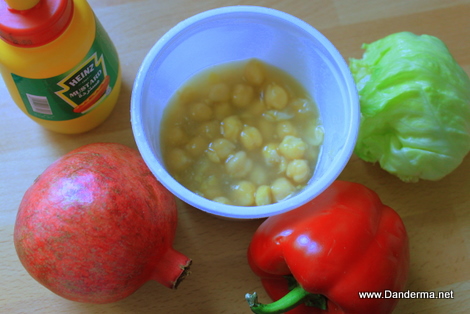 What I used was: 1/2 cup or 110g Chickpeas, 1/4 cup or 30g Pomegranate, 1/2 red pepper for me, 100g Feta cheese, 1 small courgette, lettuce, herbs, pepper, juice of 1/2 a lemon, 1 tablespoon mustard, and two tea spoons balsmaic vinegar.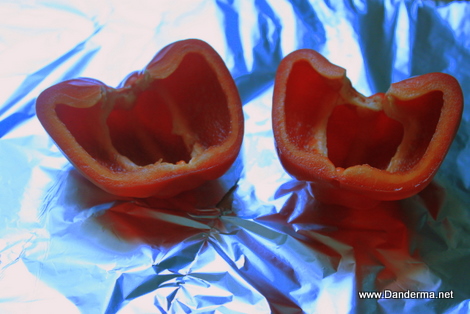 Preheat the oven to 180 C. Wash the vegetable. Cut the red pepper in half and place it on a piece of foil paper. Now for the filling, first mix the balsamic vinegar, lemon juice, and mustard together and keep aside.
Chop the courgette into small wedges.
Place the chopped courgette pieces in a bowl and add the 110g of Chickpeas.
Add 3/4 the vinegar dressing.
Add the cheese and mix well.
Now we need to add the baking herbs. I am going to use dry herbs only: basil, oregano, and thyme.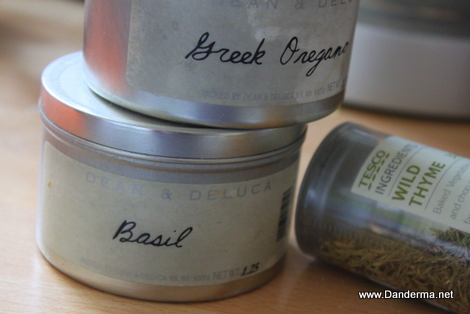 I also couldn't resist adding the smoked paprika. I just love that spice too much <3
Mix everything up and stuff the peppers halves to the brim.
Now into the over for 10-15 minutes.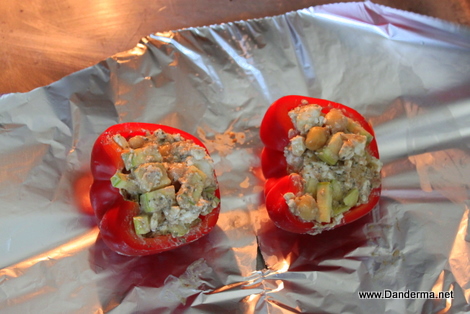 While its cooking cut the lettuce into strips and place on the serving plate.
Still plenty of time so I washed the dishes and set the table. When the 10 minutes were up just take out the stuffed pepper halves and place them on the lettuce strips.
Mmmm the smell of baked red peppers is heavenly! Now add the pomegranate and the remaining dressing and voila! Bs khala9na.
Its so tasty… so fresh and so light!
The herby tangy cheesy vegetable mix is cooked through the skin of the red pepper…
As you cut the red pepper the filling's juices will ooze out on the lettuce and pomegranate, making the best dressing ever! Time to dig in…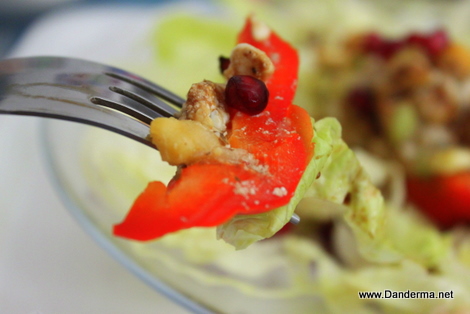 So that's my lunch for Diet Ninja's Camp Diet Day four. I have ten more days to go and think of what to eat in. Any suggestions?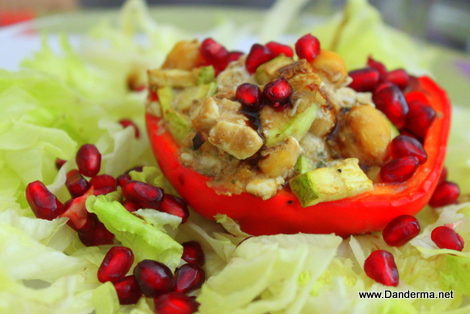 ---
10 Responses to "Recipe: Baked Red Pepper with Chickpea, Feta, and Courgette"