where to buy antabuse in canada
prosperously Day 5! 5 days went by, 9 days to go! The count down has begun! Today was a vicious day indeed. For I was invited TWICE to dine out with girls. I guess I did pretty damn well indeed and stuck perfectly to my diet plan!
The first outing was with a group of my girlfriends celebrating a dear friend's of ours getting well and they wanted the Cocoa Room. I could't miss it. We were going to the Cocoa Room at around 10:30 am and I asked Fahad the Diet Ninja if I could possibly switch things around to be able to eat there? He said no, I should stick to my plan which meant breakfast an hour after I wake up at 7:30 AM and nothing at the cocoa room :'(
So what is that laden plate above? Well its not my fault I kept having nightmares all night long and oversleeping and then the girls decided to go early and the timing was perfectly right to have my two eggs within an hour of my waking up! I asked for an omelet with red peppers and to be made without oil whatsoever and a cup of hot water and that's was what I got exactly.
In the car I was munching on my carrots and I dipped my white tea in the hot water. The eggs was gooood… the bread was taken by my friends, the yellow things turned out to be… Carrots! Of all vegetables! I didn't eat them though I thought they were sweet potatoes but my friends did 😀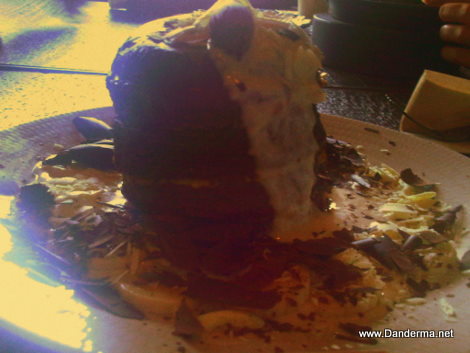 There was a little catastrophe though, this bomb called chocolate brioche was brought into the table and the chocolate aroma was so rich it went straight into my brain. My GOD! I quickly ordered a bottle of water and a decaf espresso to hold me up while I watched the girls eat it. 3lehom bel 3afiya. I survived the Cocoa Room's legendary breakfast! Yaaaay!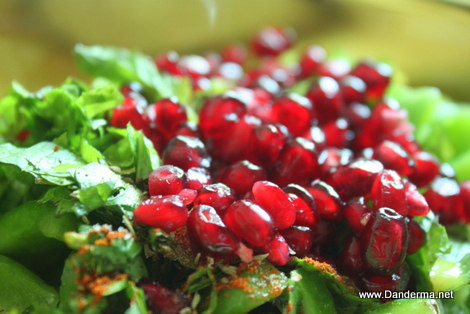 At home I made my Chickpea, Feta, and Pomegranate summer salad (recipe post). Then I got dressed and got out to the Blogerette's Chocolate Day Gathering in Chocolate Bar! I am going to post about it in a bit. Imagine sitting at this table…
and watching this…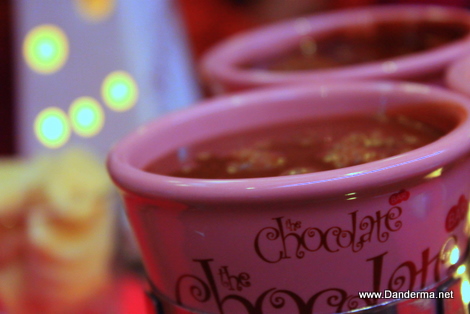 and smelling this
and only ordering this…
Decaf espresso blended with ice. My eyes were doing this, creeping to the yummy items on the table.
Then refocusing again on my frozen drink. Reminding my self that I still had dinner to eat.
 I also drank a lot of water but in the end I survived. Fahad, I deserve a gold medal and a trophy for not falling off the wagon. All I did afterwards is go back home and pass by Zero Degrees on my way home for dinner.
Small plain frozen yogurt with blueberries and blackberries. I actually feel pretty good, almost smug, writing this post and remembering the events of the day! The most delicious food dishes were paraded in front of me today and I survived. Yaaay Me!
Today there are no headaches whatsoever. Also I am much calmer even though half an hour right before lunch I was in such a foul mood I was unapproachable. The most important thing is that DAY FIVE is over. 9 more days to go and I know how to trigger my birthday dinner free meal craving,I must follow the sense of smell!
---
4 Responses to "Diet Ninja Camp Diet – Day 5"