I was browsing the food exhibition in my second visit when I noticed a book stand with not many women around. I took my time looking at the books when I noticed the book above sitting among the other books so I snatched it at once!
You know why I snatched it? Ever since I heard about it from Noo7 in Dars Khu9oo9e yelling at Su3ad for not being able to cook and why doesn't she use Fatma 7sain's cookbook I've wanted to read it. If I am not mistaken it could be the first Kuwaiti cookbook ever made! I didn't even know it was still in print. Check out the old covers of the book!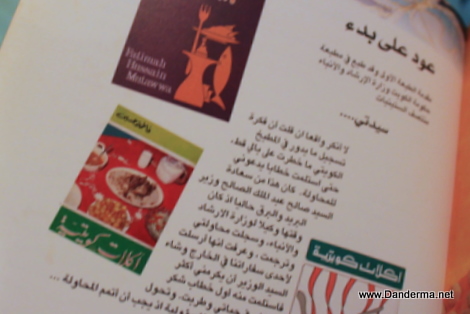 The book is all about the old Kuwaiti home cooking. If you want to learn Kuwaiti food, this is the book for you! Also it includes service tips and Q&A pages about various cooking issues. The best thing I've come across though is this recipe!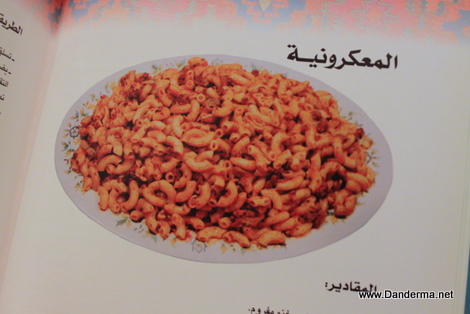 Surprised? Well let me tell you I was excited. Up until 1992 -I was 12- our home and almost every other Kuwaiti home had two pasta dishes made only: This and Makarona bel bechamel! We used to call it makarona sa'3er sa'3er -don't ask-… when I was forced to eat it as a child I would add KDD low fat yogurt and mix it thoroughly with the pasta and then add lettuce, tomato, and cucumbers and eat it just so I would mask the taste of the meat.
In the early 2000's my mother confessed that it can be made without meat. So they used to make it for me and I would still mix it with yogurt and salad and it tastes amazing -trust me- Alas we stopped making it at home since maybe the year 2000 because our maid left and no one eats that pasta anymore anyways.
Now I have the recipe! and guess what? There is a line on how to make it WITHOUT meat! Hooray! I am so gonna cook it very soon <3
I would recommend this book still. It is very informative and part of our Kuwaiti history and culture. You can always try and find which recipe su3ad was trying to recreate when she blew up the kitchen 😉
---
8 Responses to "Blast from the Past: Fatma 7sain's Cookbook"