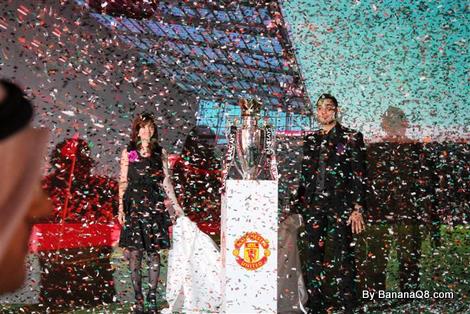 On Thursday we were invited by VIVA to attend a "Sports Event". The nature of the event had an air of mystery surrounding it so we went with high expectations to the 360 mall exhibitions room where the event was held.
We were greeted by the lovely May Al-Subaei who gave us two VIVA raffle tickets for a surprise draw at the end of the event.
We went inside to a big hoopla! A stage with what looks like a covered cup, lights and camera's everywhere, people walking and talking and laughing happily. The air was buzzing with excitement.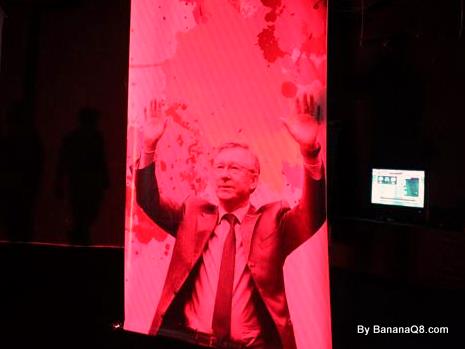 We were directed to a section of seats dedicated for the social media! Kashkha :p We were there early so we managed to grab front row seats of the social media section.
Check out the grass decor.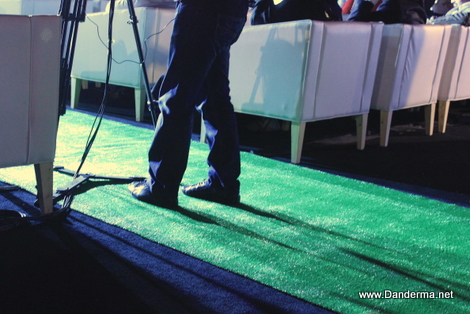 The event started approximately at 5 PM so there were plenty to do. We saw Pink Girl, The Side Talk, Froyo Nation, Banana Q8, 7aji Dude, Omarker, and p0ach. I asked Banana Q8 if he could help me out by taking some pictures for me and he generously did 😀 His pictures are credited to him in this post, THANK YOU Banana Q8

Another piece of decor was the baby foot tables. I saw many guys playing with them while waiting for the event to start.
Excellent catering by Paul.
As I said many local TV stations were there to cover the event and many TV reporters where there as well.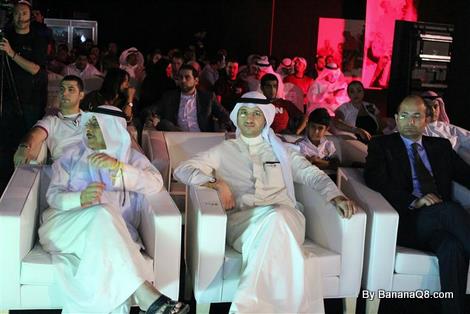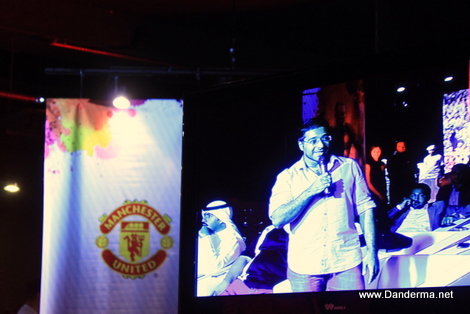 When the event finally started we knew it had something to do with Manchester United. But when VIVA's CEO Mr. Salman Al-Badran made the announcement we were very surprised and proud.
Apparently VIVA scored a historic five season sponsorship with Manchester United, the 2011 Premier League Champions, starting from the 2011-2012 season.
The legendary Manchester United player Mr. Bryan Robson was present at the event and was greeted with a loud chorus of applaud when he started speaking,
What does that mean to you, the person sitting at home who is a football fan? It means that VIVA will be bringing to its subscribers lots of events, products, events, services and opportunities which will bring you closer to your favorite football team. Starting from the SMS I received this morning informing me that for every KD I pay towards my bill I will get two chances to enter the draw to watch a Manchester United game live at Old Trafford! Nice job VIVA!
Then it was the time to unveil the Premiere League Cup.
The men went crazy over the cup! Took endless pictures, caressed, hugged, and kissed the cup endlessly! There was a line that wouldn't end because men went back again and again to take pictures with the cup! That's my Butootee clinging on to the cup.
There was a session of Q&A before the unveiling of the cup. My brother who wanted so badly to come but was held up was with me on BBM the whole time. When I asked him if there was something he wanted to ask he BBM'd me saying 'Tell Bobby Inter Milan Rule!'. No I didn't say that I wasn't that stupid :p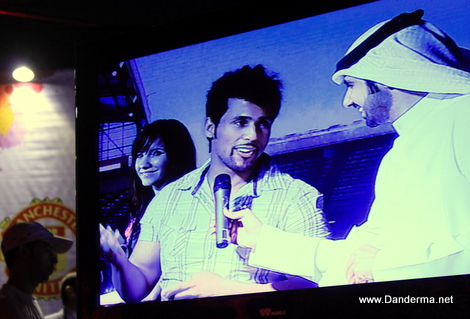 The raffle tickets we got at the begginig were drawn by Mr. Bryan and two lucky winners get to go and see a Manchaster United game on VIVA! That was the first winner in the picture above. Guess who is the second winner?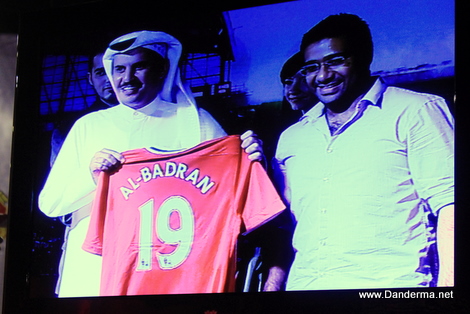 Mike Embalta3! In the end VIVA's CEO was presented with a Man U shirt with his name printed on the back. We all got Man U red Shirts with red caps as well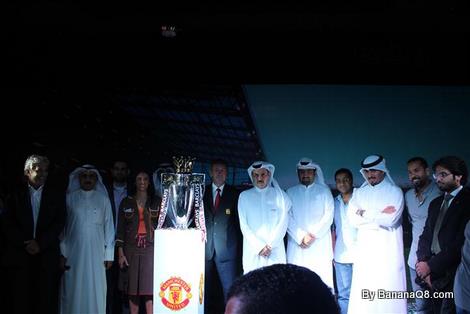 It was QUITE an event! I may be well entitled to say it was the Biggest and BEST and MOST EXCITING event of this year. VIVA had really outdone themselves this time! Good job VIVA, way to go!
Thank you May Al-Subaei and VIVA for inviting us. Qawakom Allah 😀
---
7 Responses to "Event: VIVA's Manchester United Night"