Hellersdorf
lollingly Last food post of the day :p One day in the beginning of Ramadan the door bell had rung and a lovely package was dropped off with my name on it.
The box came with a card with my name on it.
The box contained Ishta Soufleé, the August highlight of Life with Cacao. It is described of a layer of ishta cream topped with a crust of basboosa by Fahad Al-Fahad, the owner of the homemade business Lgaima Sweets.
The Ishta Soufleé had a very ramadanisque feel to it, just the perfect new dessert to try on the start of Ramadan. I heated it in the microwave and tasted it at once.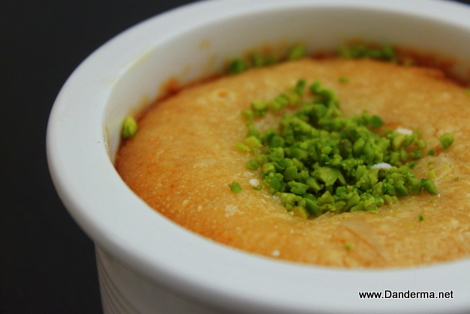 I prepared my coffee and sat down to take a bite.
How was it? Well the Basboosa was good, the Ishta was good. Together they were in harmony. Yet its not something very new. I've had basboosa with Ishta before. I guess its the presentation and way of cooking that is different in this dessert. But then it is good to have a familiar dessert in the menu during Ramadan.
To contact Life with Cacao to showcase your product as a highlight or for more information you can join Life with Cacao's facebook group (link) or follow them on twitter (link).
---