isotretinoin online without a prescription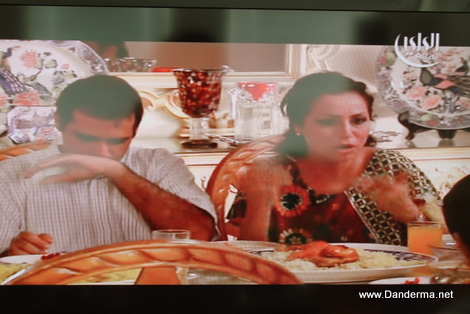 1- Profanities! Malat 3leech/3leek, chalb, etc.! When did it become OK to use so many profanities in the shows? 3aib 3lekom! A bit more class please.
2- Bgara! Every mother in law calls her channa Bgara! Are there women who call their channa's bgara and they don't even retaliate? Nor they neither their husbands? Wain ga3deen? It is not OK for a mother in law to call her channa any name, period.
3- Speaking of mothers in law, in two serieses the channa is actually the daughter of the sister of the mother in law. You would think there is a better way for aunts to treat their channa/nephew in this society. Ay shay mo?
4- Eating! Throughout the episode they eat lunch 500 times! Ma9arat! Don't we have any other activities in Kuwait to show for besides eating lunch?
5- Lunch is always machboos dyay. Every single mosalsal, every single lunch, its machboos dyay! Mako shay thani we eat? Maid? 9boor? M6abag Zbaidi? Marag Bamiya? Machboos la7am inzain? Min kither makalaw machboos dyay I began craving it over futoor!!!
6- In more than one series wives must feed their husbands while they are eating lunch. Every single meal. the mother in law would be watching and BAM she goes off in a fit of profanities! I never feel the urge to feed my husband, the love of my life, while we are eating lunch and if I do I wouldn't do it in front of my parents o ana atga9a3! Wain ga3deen? Is it just me?
7- Maram is always a jealous wife o elsan.ha metbaaree minha, and the husband bends backwards to prove his never dying love to her! Erm Maram what's your secret?
8- The excessive emphasis on money is just ridiculous! In every mosalsal there is one millionaire who people want to suck up to and the rest of the cast are poor and look for ways to exploit money off their millionaire relative. Ma 9arat!
9- Every millionaire is mean, rude, and spitting profanities all the time especially when poor relatives who are angels walking on earth ask for money. Also, the poor people seem to have no dignity at all, they take the abuse, bow their heads, and keep on as if nothing is wrong! Laish 3la Allah?
10- Every cool guy is hugging the phone at night whispering with his beloved girl. Don't you know that people now a days use facebook, twitter, BBM, and other types of media to communicate? Le meta ey'3azloon bel telephone ballah?
---
19 Responses to "10 Things that Doesn't Make Sense in Mosalsalat Ramadan 1432"