When I went to Lush today -which is one of my favorite stores in London by the way- I found this amazing new product! Toothy Tabs tablets are a replacement for toothpaste which could come in handy especially if you are travelling or need to brush your teeth at work or in a restaurant.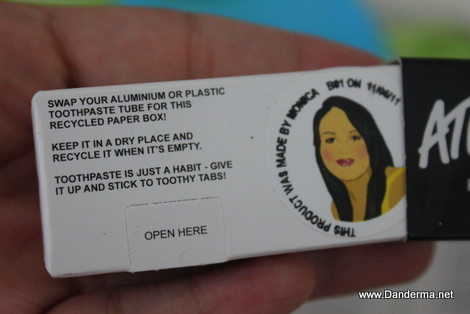 Each box contains 40 tablets so depending on how many times you brush your teeth per day a box could last you for 10-20 days. Its is dentist approved, was not tested on poor helpless animals, saves the planet in terms of not using aluminum and such, and comes in 6 different flavors! This is how you use it…
Break the tablet, chew on it, then brush your teeth. Can't wait to brush my teeth tonight after dinner 😀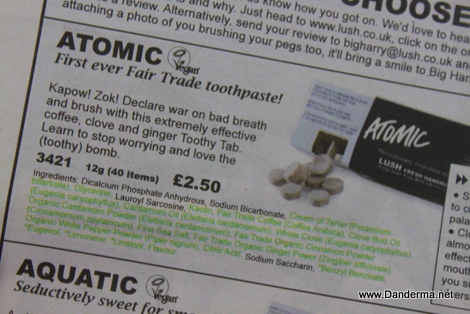 The flavor I took is Atomic which is supposed to conquer bad breath pretty well with coffee, clover, and ginger flavors! The other ones available are Aquatic that is earl grey flavored, Sparkle that is vanilla flavored, breath of god which has sandalwood and fennel seeds, and Dirty which is spear mint flavored.
Other items I picked up today were the Sugar Lips Bubble Gum flavored scrubs (
post
).  The new solid perfume with Vanilla aroma.
And the new shower gel 'Its raining men' that smells like honey and exotic flowers and smells really good.
I wonder if Lush Kuwait stocks any of these new items? Specifically the toothy tabs which are a life saver for me! If you know let me know please.
---
4 Responses to "Things 2 get 4m London: Lush's Toothy Tabs"