Matehuala
When my little sister asked me to get her the Moroccan oil hair treatment and shampoo from London I was intrigued. I haven't heard of Moroccan oil before and I wasn't very excited about the thing.
To my surprise everyone is going gaga here in the UK for the Moroccan oil range. I would go to buy the stuff from a salon and it would be sold out. I have actually assembled the collection below from three different salons because all three had ran out of one thing or another! Even the hairstylists I asked highly recommended the thing to me.
I got myself the oil treatment in the brown bottle of course, must check out how to use it. I also got myself the shampoo and the conditioner. My sister swears by the shampoo and the oil treatment by the way.
I got the hair mask which is supposed to be used once a week.
I also got myself the travel range: a small compact beauty bag with a tiny travel sized sample of each of their products: The oil, the styling cream, the shampoo, the conditioner, and the mask.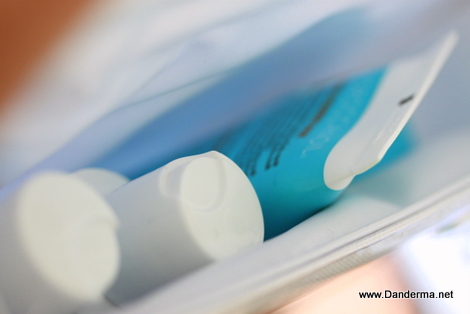 The Price of every item is £30. Kind of expensive but I wonder if it was sold in Kuwait how much it would sell for.
In conclusion the Moroccan oil hair care range is the latest IT hair product. If you stumble across it grab yourself a bottle and try it out. I've tried all the items and my favorites are the styling oil and the mask. The shampoo and the conditioner didn't go that well with my hair to be frank but it did work for my sister's hair.
---
35 Responses to "Things 2 Get 4m London: Moroccan Oil Hair Care Range"