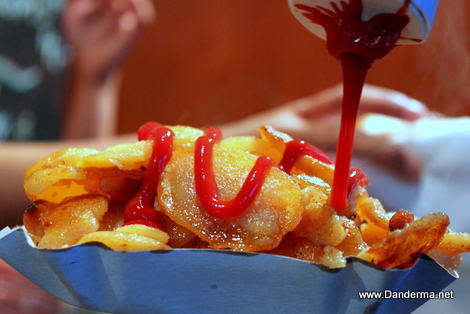 1- A bar of Cadbury Dairy Milk with Walnuts and a bottle of water. I would take a mouthful of chocolate then a swig of water. Its amazing.
2- French fries, fat and homemade. Stuffed inside two pieces of toast and drenched with ketchup. Its the best sandwich ever and I only have it if I am really really sad or really down and need a pick me up cause its dangerously addictive.
3- If I want to pig out I would go and buy my self a falafel sandwich, preferably inside a round white bread, with a cocktail juice. Very 80's meal, very nostalgic, very fattening!
4- White cheese fatayer with Orange Sunkist juice in the white plastic cup. Just the way we ate it when we were kids at school. Very hard to find good white cheese fatayer now a days though.
5- Americana chocolate Swiss rolls with KDD mango juice. Reminds me of the 80's Fridays spent watching 7kayat 3alamiya. That was a favorite snack of mine back then .
6- If I'm happy I eat. My best celebratory meal is walking into a Godiva chocolatier and buying my self a big box of carefully selected chocolate pieces. Then I would go home, get some black coffee, wrap up on my couch and savor the box, one piece at a time. Yum!
7- Strawberries with canned whipped cream. Like the ones I have in London every other time I visit. Its just so good!
8- Every once in 3 or 4 years I get a packet of Cream Chantilly, whisk it according to directions, then empty a small can of tinned mixed fruits and eat it. Of course the Cream Chantilly will have leftovers so I would eat that with a spoon <3
9- There is this drink in Starbucks, the frappucino with chocolate chips inside. I usually order a coffee frappucino or a caramel frappucino with coffee, no whip and tall. But if I want to indulge I would order a tall Chocolate Chip frappucino with whipped cream and extra shot of coffee. Haven't done that in a long time though.
10- Plain Spaghetti!  This is what I allow myself to eat when I am very sick with the flu. Boil PLENTY of Spaghetti, then sprinkle salt on the strands and eat them alone. Believe it or not they taste even better than Spaghetti with sauce.
What are your guilty comfort food combinations?
---
21 Responses to "10 Guilty Comfort Food Combinations of Mine"