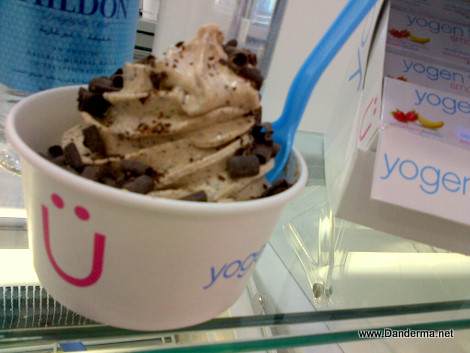 Yesterday I was craving some Frozen Yogurt badly. Butootee suggested that instead of trying my usual favorites why not try something new? Say the new place in Jabriya, Yogen Fruz?
Sulkily I agreed. De3la o I like my stable favorites. Anyways I go inside the shop and take a look at their combo's and immediately I am at loss on what to choose!
Now can you guess which one did Danderma go for? The coffee one of course! It was AMAZING! So amazing in fact my Butootee on the way home announced that he feels like he is in a French cafe where a good coffee is being freshly brewed. That's how strong and good it smelled -and tasted-. I would like to try the Chai Lattee too! O the mint chocolate chip insha2 Allah.
I wonder if they open for breakfast tomorrow? Butootee took this smoothie thing which he didn't like but I tasted and it was pure pureed berries. No more, no less, and not bad at all.
The Coffee frozen yogurt is HIGHLY recommended. My current all time favorite Frozen Yogurt <3 Try it and see!
---
10 Responses to "A New Addiction: Yogen Fruz's Coffee Fro Yo!"