Afternoon Tea, or Chai el 3a9ary as we refer to it in Kuwait, is a cherished tradition and as important to our society as the afternoon tea is in the UK.
As a child I remember waiting for my parents to wake up from their afternoon nap so we can have tea and cake together while watching the cartoon de jour -TV started at 4 pm back then-. Therefore when I got the invite to have Afternoon Tea in Ladurée with my fellow bloggeristas I was more than happy to do so 😀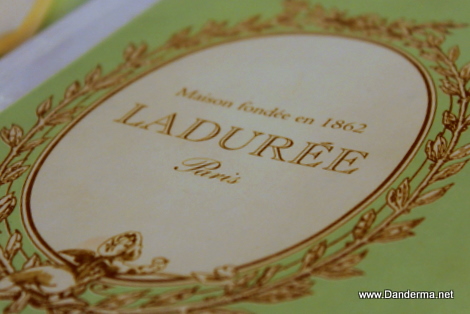 Danderma, fashionably late as usual, arrived yesterday in the Ladurée's Cafe, 360 mall and looks for the fellow blogerretes, none where to be found! I frantically call Ansam and she tells me they are taking a tour inside the Ladurée store so I head there to find the girls clicking away. I whipped my camera too o joined them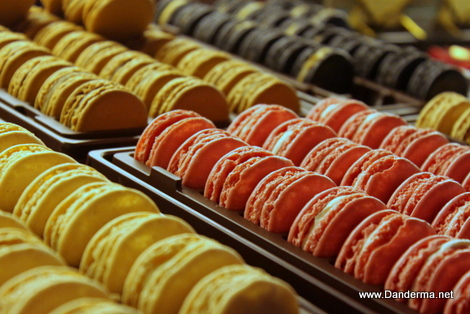 There is something satisfying about being in a room with other people clicking around at every angle trying to find a similar yet distinguished thread of story to tell. Do I make sense? Madry… anyways here are my threads of the story.
In the store you can find Macaroons, Pastries, different types of teas and Jam selections, and more. I am sure most of you have passed by Ladurée by now and are more than familiar with their merchandise. But if you don't like macaroons much and thought Ladurée was only about macaroons, you might want to revisit that though.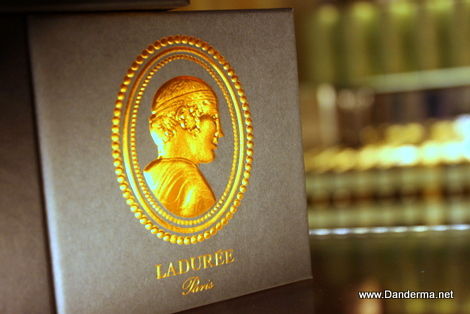 This is one of their best selling pastries by the way.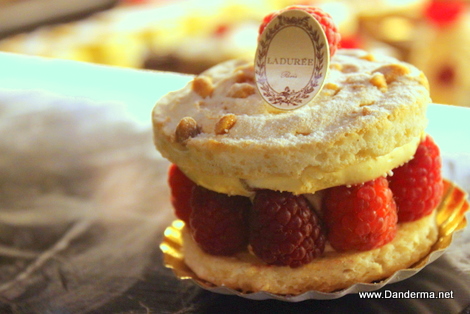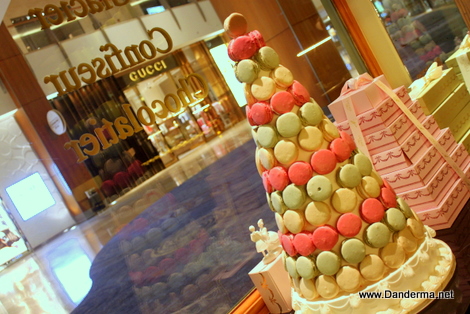 Looking at the rack of ribbons I have decided to build one for my gift wrapping station (post). I really really want one! A new project for me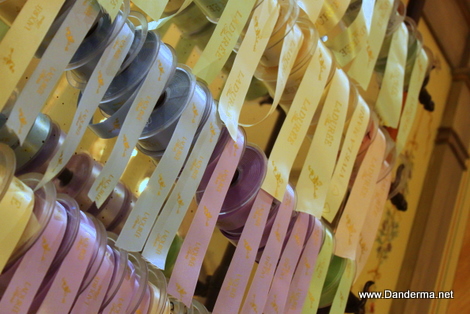 After the girls were done clicking we went back to the Ladurée cafe for the much anticipated afternoon tea. I have had a bad experience dining with Ladurée before so I was a bit weary but I was assured that this time I will have a great meal and an enjoyable time.
This is my first time in Ladurée's new expanded cafe and I have to say I liked it better this time. The chairs for starters were very comfy. It was very quite in 360 as well, no screaming school kids walking around so we were expecting a very relaxed afternoon tea with no unnecessary interruptions, and I was right about that, thank god.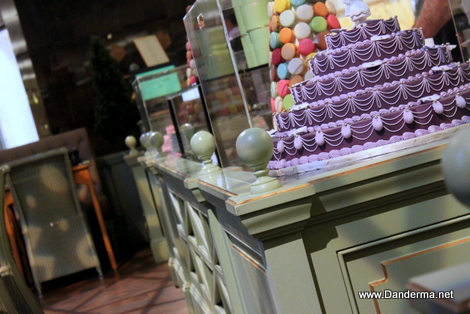 The pastries and cakes were on display in the cafe plus a big purple cake and another pink cake. The famous Ladurée Macaroon's Pyramid was also on display.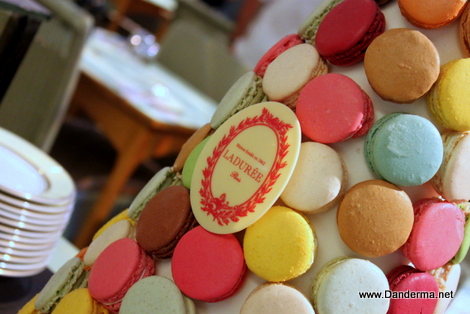 We were given the menu to help us choose the kind of tea we'd like to have. I chose the Earl Grey.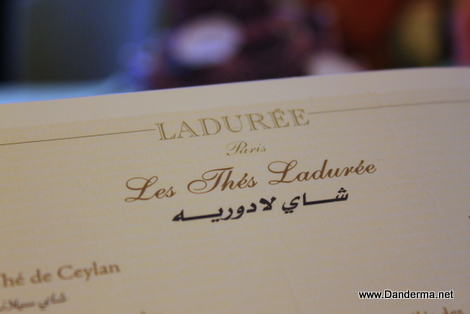 We were then presented with little bowls of ice cream in different flavors: Rose, Violet, Chocolate, Pistachio, Lemon, and Raspberry. I have to say I liked the Violet one. It is quite familiar yet different indeed.
However the Pièce de résistance is yet to come and it arrived in the form of a very classic small tiered purple cake, modeled after Marie Antoinette's wedding dress.
It was baked especially for our afternoon tea and completely ours to consume.After all, what is afternoon tea without a cake?
Each of us in the table got a plate laden with a big slice of cake.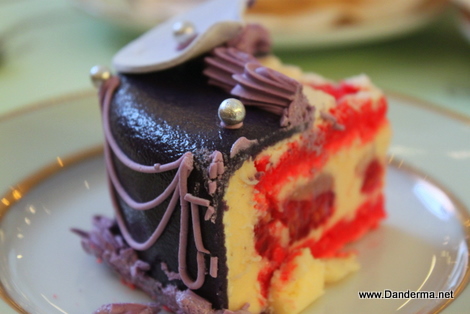 Now I planned to have a forkful of cake only, maybe two at most. But when I did put that fork of cake in my mouth I nearly swooned!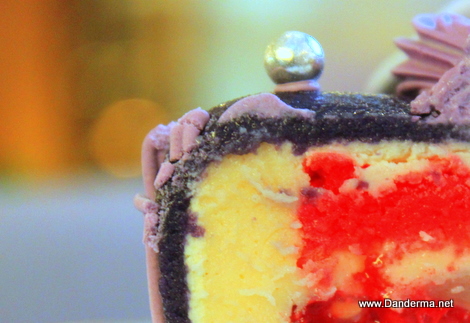 'What is that', I thought to myself! Is it just a cake? It had raspberries, something like crushed macaroons or nouga or meringue, god knows! It is not your usual boring springy sponge cake filled with icing, no no.
It was an explosion of contrasting textures: smooth vs. chewy! It was lip smacking, honestly lip smacking and possibly the best thing I've ever tasted in Ladurée, ever!
I loved it so much I began eating it only, and concentrated on eating it. I do vaguely recall snippets of conversation on the table: Dudette saying something about someone and Pink Girl chiming in. I was silent and distant, me and my slice of cake in a world of our own, until this happened.
Yes, shamefully I had demolished the entire slice of cake! I would have demolished the entire cake if I let myself but I turned on my good girl attitude and decided -sadly- against seconds.
Meet the chef's behind this creation, who deserve a big round of applause. The picture is stolen from 7aji Dude's post by the way -sorry Dudette-. The chef sat with us on the table and explained to us about the cake. The cake comes in many sizes: from one portion for one person to as big as a wedding one for hundreds of people. The filling is called Divine and divine it was indeed. I am so going to order one soon

I wonder if the cakes Marie Antoinette had were as good as this cake? As we chatted with the chefs and our host, Ms. Mariyam, time had flown by and it was time to go. We didn't go home empty handed though…
Were presented with a big bag chock full of  Ladurée goodies!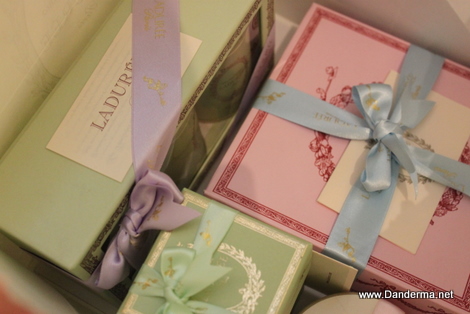 Elegantly wrapped signature  Ladurée gift boxes containing: a selection of tea, Rose Jam, Sugar encrusted almonds, and a big box of Macaroons 😀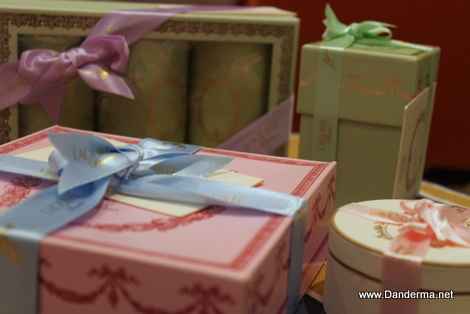 Very generous indeed!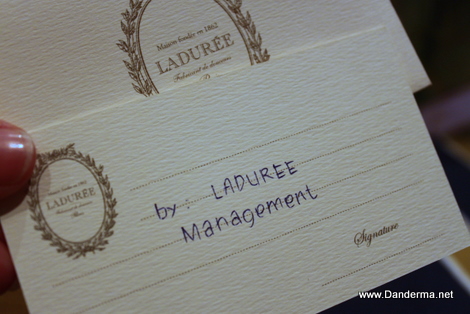 Thank you Ladurée for a great afternoon tea. Thank you Chefs and thank you Ms. Myriam for giving us a great and remarkable time, it was our pleasure to have your company yesterday

---
5 Responses to "Review: Afternoon Tea in Ladurée"