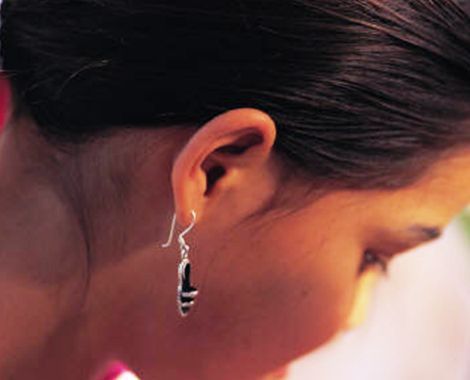 This subject has came up in a conversation yesterday and it left me curious and thinking. 99.9% of girls in Kuwait have one ear piercing for sure. I love earrings, so much that one pair of earrings was never enough for me and I kept nagging on my mother to let me have a second piercing in my ear. When I was 20 she barely said yes before I was out the door with my baby sister, we both got second ear piercings.
Sadly my 2nd one didn't go well and I had to refrain from wearing earrings in them. I still can't wear earrings well in them, they itch and burn 7safa

My mother still doesn't like our second ear piercings.
I would have gotten a third but, well, I couldn't tolerate a 2nd to start with fa no way a third. I would never however have a piercing elsewhere, it just freaks me out, especially the nose ring thing (khazaama). Somehow I always imagine if someone has a nose piercing and weren't wearing their ring and they sneezed the snot would come out of that hole, plus it doesn't look that classy either.
How many ear piercings have you got? What do you think of 3rd piercings and/or belly button, tongue, or nose piercings (khazamaa)? Would you do it?
---
---