On my quest to revamp our living room we stopped by Midas Store in Al-Thajeej area last weekend to explore and maybe get some ideas. They had some items I really liked and thought about sharing it here with you in case you are going through the same thing.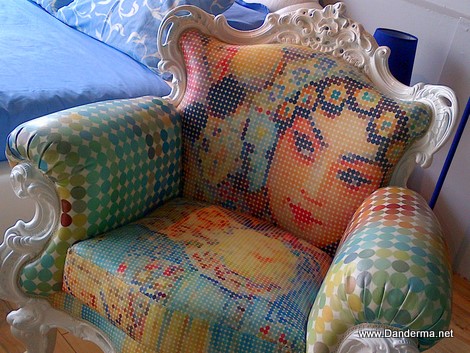 I loved this pixilated chair! I loved it so much I actually was thinking of ditching my minimalist modern look and going towards the Arabian infused modern look which I can't pull off

Almost bought this foot rest! But I hate the vinyl material place I already haveI a perfectly fine foot rest that I plan on restyling, I don't need clutter.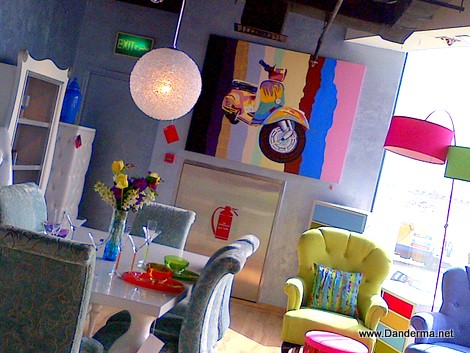 I like the Vespa painting in the back! I totally need to have a huge art piece or a photograph hanging somewhere. I want it to be one of my photographs though so it would be unique and more personal though. I might photoshop it to get the same color effect as this painting though.
Still can't get over the acrylic photo frames and these are exactly what I am looking for, except I need them to be bigger!
I love these hanging lights. Would be perfect over the dining table even though its not that clear in the picture.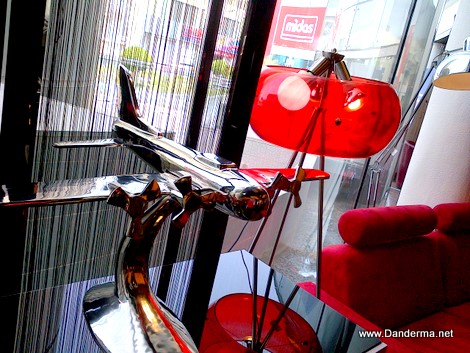 I loved this ball of light HUGE chandelier! It reminded me of a toy ball we used to play with in the 80's, wish I had a picture of it…
I also liked this chandelier. Too many colors though.
This chandelier is crazy! Etshaweq!
This bar stool is made from colorful acrylics. Lovely but I have no use for it for the time being 7safa.
Now this made me crack up!
How kinky! I would imagine the solemn faces of the in-laws if a newly wed couple give them a tour of their new apartment with this bed in there and wonder how they would explain the handcuffs on the bed, priceless :p
Anyways still didn't decide on anything but the place is worth a visit for sure. Just stay away from the kinky bed please.
---
10 Responses to "The Furniture Hunt: Midas Thajeej"