As a blogger and also as a freak magnet I got MANY weird comments. Some are funny, others are rude. I am sorry I used to delete the very early rude comments from my blog or I would have shared them. Yet I still delete the X-Rated comments and would never show those. Below is a collection of some of my favorite weird comments. Enjoy 😀
From the post "Do you think this look is pretty?" Where I drew a mock up of girl with scary tattooed eye brows, I got this hilarious comment! Its my ever favorite comments!
O in remembrance of the above comment, when I posted yesterday about the "Habba Alert: 7ejab Bu Tafkha Version 2″ with a drawing, I got this hilarious comment. It made my day wallah, looool 😀
 This is my 2nd favorite comment because it was my first rude comment as a blogger from 2009 😀 I look at it fondly now and remember it with a smile 😀 Its from the Trader Vic's post, remember when it was opened? Well I went there, had a horrible experience and said it was too tacky! Ma 3jabha el 7achi el ekht…
When I announced that my perfume combination won on 52 degrees Perfume Competition, someone wasn't very happy and didn't think I should be either!

When I announced Prime & Toast and Pizzetta's Gluten Free menu, which was something I was campaigning for, I got this comment. I have nothing but pity for her mentality.
I also clearly remember this one from the Fatburger… Never Again post. I tried their veggie burger and it was HORRIBLE! Sorry fat burger but it was. Again I got a disgruntled comment.
This one was from the Blogging Dilemma post and is also memorable because it came out of the blue. It was followed by more and more comments.
Not to forget this comment I got when I first started writing Dathra. It was on a post called "Lost in Translation: Badliya or a new word".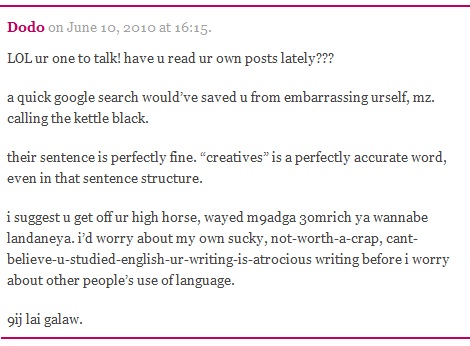 On my "Big Blogging Rant" when I complained that the fuss regarding bloggers had gone out of hand and that someone had insulted me by trying to dictate what I should write, I got this angry stalkerish comment.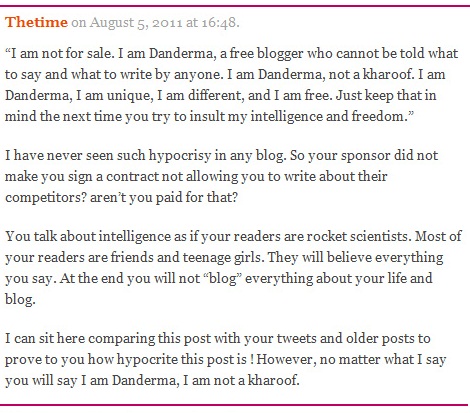 La o she had supporters too!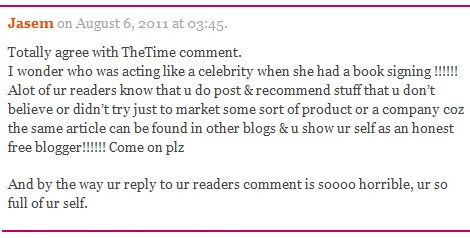 Since I am a horrible dishonest hypocrite, why on earth do you come back to my blog o la follow me on twitter b3d? Weird people. Anyways moving on…
When I welcomed Prime & Toast as a blog sponsor, this girl was furious.

Naturally I tweeted about the comment, I am allowed to complain aren't I? So she retaliates again.
Clearly an obsessed stalker w3liya. Only she doesn't have the courage to actually confront me on twitter. Coward. Moving on…
In my "Habba Alert: Men Wearing Bow Ties" post, someone who disagreed with me told me so, BUT, he ridiculed my opinion by making a reference to my liking of coffee flavored frozen yogurt. Shako? Madry wallah 3elmi 3elmkom!
Moving on, from the "10 Things That Never Go Out of Style in Q8" I talked about not liking the smell and result of 7enna. Clearly I offended 7enna lovers in Kuwait. Apparently if I say I don't like it it means I am trashing it!

I do have much more but I will have to dig deeper. I also have the crazy tweets I get on Twitter. Will make a 2nd post soon 😀
---
22 Responses to "Top Weird Comments I've gotten on my blog!"