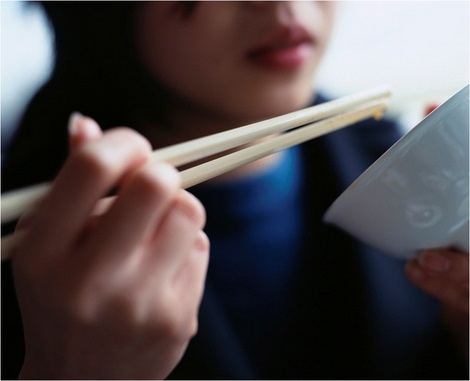 When I was in college I passed by Mcdonald's in the cafeteria one day for lunch and I found that they had a new item on their menu, spring rolls. The small box of 3 vegetarian spring rolls came with a set of wooden chopsticks and soya sauce dip if I am not mistaken.
I ordered the spring rolls, discarded my books on a secluded table in the cafeteria and sat concentrating heavily on how to grab the spring rolls with the pair of sticks. Those were in the days before the Japanese food mania hit Kuwait and everyone became an expert on raw food.
Anyways I took over an hour but I finally figured out a way to handle those chopsticks in a way that would help me grab the spring rolls, dip them in the sauce, and then direct them to my mouth for a bite. Afterwards I always had the confidence in grabbing a pair of chopsticks and using it to eat noodles.
Do I know how to in use a pair of chopsticks? Yes but in my own way and not the right way. I can eat with them but not as fast as Asian people can of course and I cannot eat very small stuff, but I can eat with them all right, I don't enjoy eating Asian food a9lan unless I eat them with a chopsticks.
What about you? Can you use a pair of chopsticks? If you can, how did you learn?
---
---