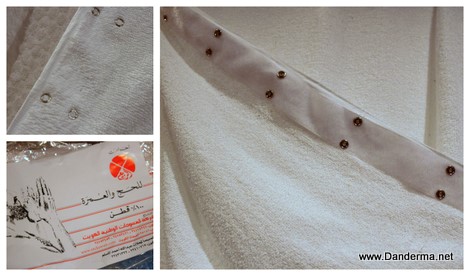 The most important thing to buy for a man going to 7ajj is his e7ram. Butootee had already bought 3 normal e7rams but he heard that there is a certain type of e7ram that can hold itself up and doesn't need a belt or pins. It has velcro strap that is stapled on and sticks together quite nicely.
So we went to Mubarkiya and asked around. The only place that seemed to sell it is an old and well known shop "Al-Mosallam". There were two kinds one Chinese and one Kuwaiti. One of them sold for 5 KD and the other which we got was for 7.5 KD and we chose it because it closes better. Lets just hope Butootee still gets to go to 7ajj, given that he is flying on Kuwait's ariways who cancelled all their 7ajj flights

If you are still looking for an extra e7ram you can go and visit Al-Mosallam store in Mubarkiya to get yourself one. Tel: 22431322.
---
6 Responses to "Hajj Preparations: E7ram with Velcro Strap"