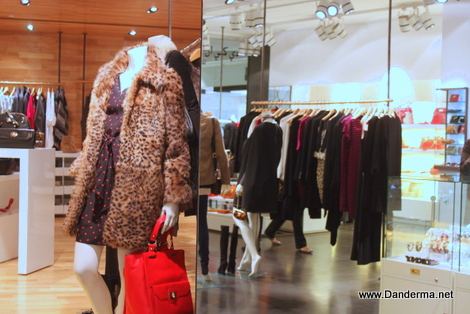 DKNY and Al-Yasra fashion held an exclusive night of fashion event for bloggers last night in their Avenues branch. To be frank I am not a big fan of DKNY but I wanted to go and see what they had in store.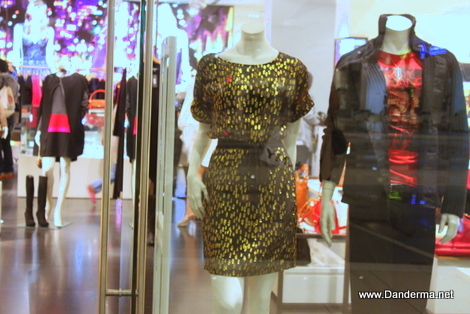 At the front of the store I saw this mannequin and I thought that dress was really really nice!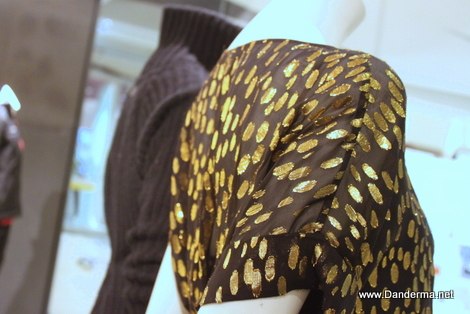 and nice it was indeed! If I had been thinner I would have tried it on. Moving on I was greeted by Al-Yasra PR team and as we were being greeted my eyes fell on the three mannequins standing proudly in the middle of the store.
Specifically the middle mannequin.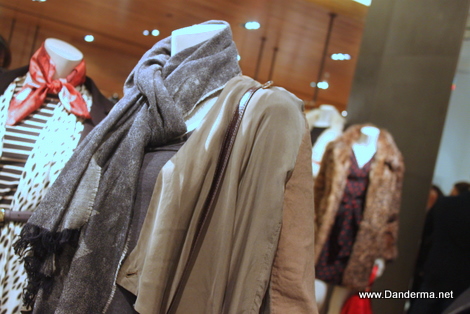 I love this look! Its totally me! The colors, the casualness, the jeans, the jacket, my oh my the jacket! Its beautiful! I could wear it every single day! I love it! O the boots! I am a sucker for jackets and boots! I was wearing a similar boot that night and I realized I don't have boots in that color!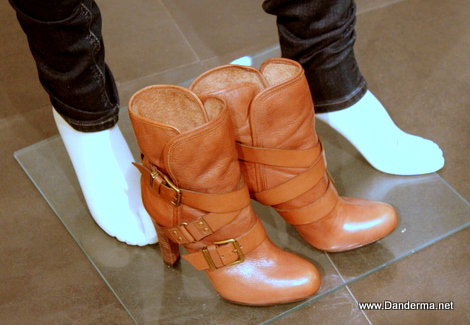 The rest of the outfit… not a big fan of tiger prints though.
When I finally was done photographing the outfit I was told that those mannequins were dressed by our fellow blogger Confashions! Now that makes those outfits even more special! I love dear Confashions taste and I thought having a fellow blogger dress up the mannequins for the fashion night was a brilliant idea! Check out her chosen outfits.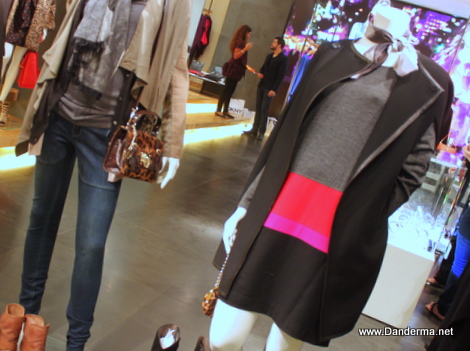 The cape, which I believe is fashion's answer to the Kuwaiti winter when its cold but not that cold. Don't attempt to wear it in Europe's freezing weather though like yours truly who stupidly did last winter. Check out the tiny tiger bag y7leelha!
There is the striped short dress look with a jacket. A look I also like for formal outings.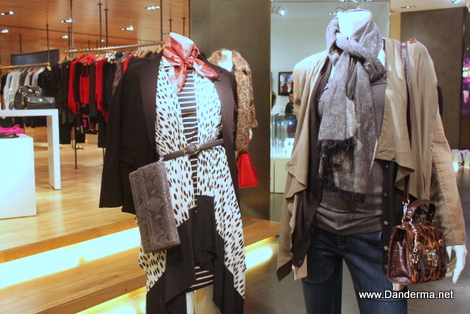 I love the contrasting patterns and the simplicity of the colors. I never thought of adding a layer to an outfit by using a scarf and a belt before. Nice!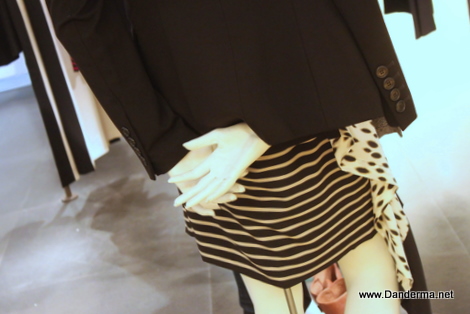 I loved the shoes that went with the outfit too! Too bad they were peep hole shoes which I dislike wearing or else I would have snatched them!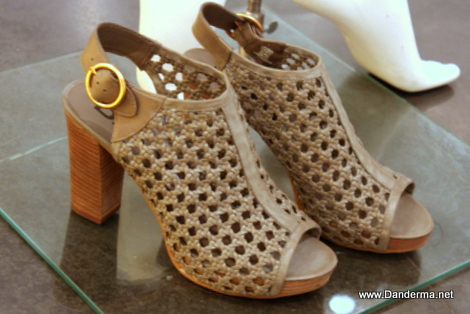 The last two looks were more wintery. I don't know why but I didn't think they were something I would personally wear, maybe its the fur thing?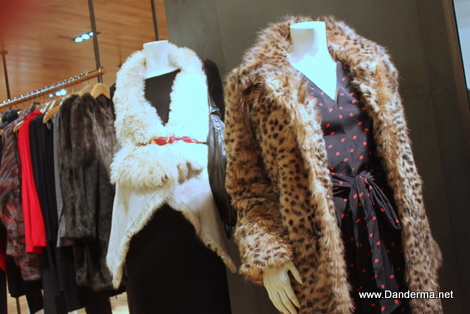 I loved the shoes that came with the tiger fur though

Spectacular job Confashions! You should do more and more mannequins around the shops in Kuwait! Brava!
While we were taking pictures we were presented with munchies from Napket

Ya7leelhom el bite sized burgers! Interesting looking drinks too!
I took a tour around the store snapping pictures of my favorite outfits. This nice one for example would be very suitable for me as a 7ejab wearing woman if worn over a pair of trousers or jeans.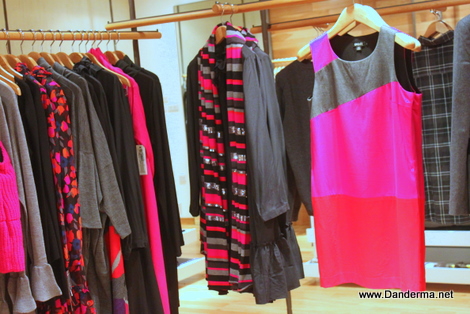 I loved this knit jacket and scarf for Butootee if worn with a gray tshirt and a pair of washed out blue jeans! Might go back to buy it for him as a gift

One of my sisters would love this white blouse for sure.
I saw a pajama section too…
Ipad covers in interesting colors.
I loved this dress and scarf too.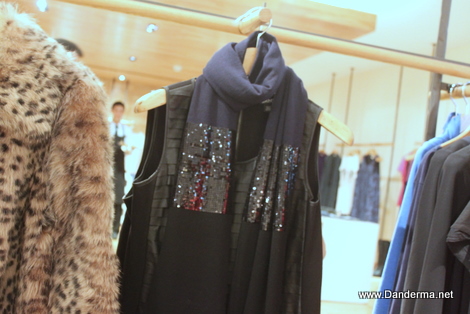 Have I said before that I have a soft spot for jackets? Especially denim and leather ones? Well this soft black leather jacket really got my heart beating. I loved it immensely and wanted to buy it but I have an overload of unworn leather jackets in the cupboard waiting to be worn.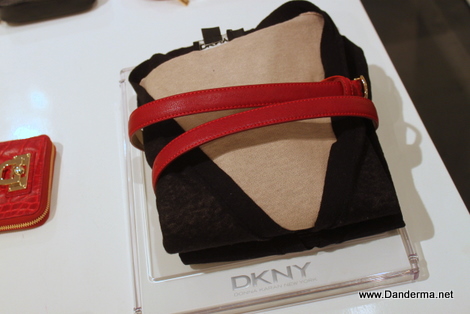 We were then given a little speech by Al-Yasra PR group followed by a series of questions for the attendees. The one who has the most correct answer would win a gift and while the questions were asked we were presented with… Napket's Frozen Yogurt!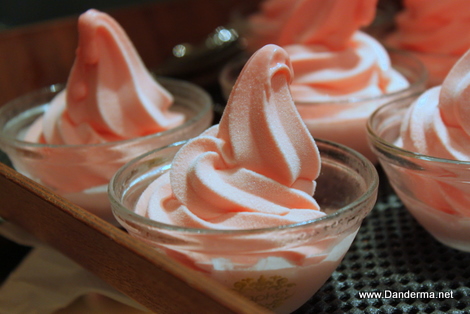 All the attendees received DKNY goody bags that night.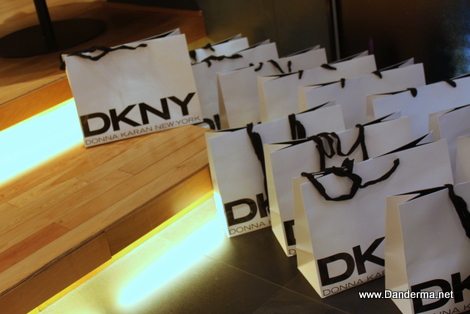 But I left with both a goody bag and a gift box! Guess who won the competition? Me me me! Pink Girl won as well :p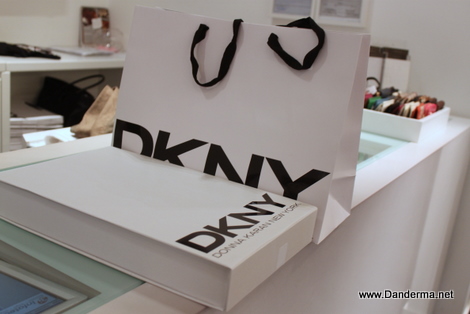 I also left with the green and beige jacket I loved from the first mannequin, I just couldn't leave without it! Luckily I found one that would fit me, can't wait to wear it although I would have to alter the look a bit to make it more 7ejab friendly

I am also going back for the boots! Stupid me didn't buy them yesterday! Stupid stupid me!!! I have just the perfect same color clutch with studded with little golden skulls that would complete the look!
What was in the DKNY goody bag? Now it was quite a surprise actually. You would think they would add a scarf or something but instead we got this…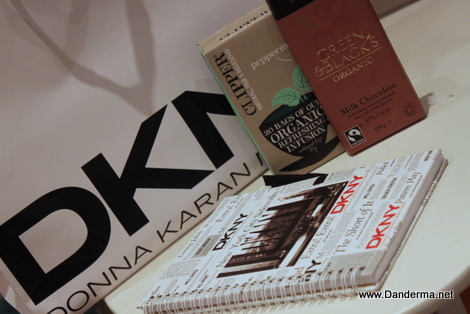 Clippers Organic Peppermint tea and Green & Blacks Organic milk chocolate with almonds! Two favorites of mine to be frank! Plus a DKNY notebook. I think its a great gift. Instead of giving away a fashion piece that people may or may not like why not give away items that most people would like? Who doesn't like chocolate? Frankly I was happy. My only take was that, well, Donna Karen is American and they are giving away British organic products :p
We had a great time yesterday.Thank you Al-Yasra for your kind invitation and thank you dear Ansam for extending the invitation

If you are still shopping for Eid outfits you may want to pass by DKNY store in the Avenues. Some pieces are really worth snatching up. Just don't buy my boots before I do!
---
---