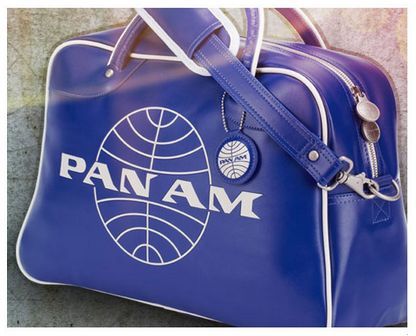 I don't know if you've been following the new TV series PAN AM but I am a big fan. I love the story line, the clothes, the fifties era and I am glued to my seat every Sunday to watch it.
I began noticing this travel bag held by the plane stewardesses as they walked around the airports and I thought to my self it looks so retro and lovely and would make a great travel companion. Lo and behold I went online and there it was! Already available to purchase online from Panam.com (link)!
Just a little bag history: back when PAN AM was in business the Orion bag was given for the first class passengers of PAN AM and being seen holding a PAN AM bag was actually very in style and dictated the holder of belonging to a certain class. Nice!
I am so getting my self a blue orion bag. I am going to be brandishing one proudly the next time I go on board an air plane. E3jbatne!
Would you buy and hold a Pan Am Orion bag? You can buy one from here (link).
---
16 Responses to "I Want: PAN AM Orion Bag"