where can i buy generic isotretinoin
We went a few days back to Milk Cafe after we heard so many positive reviews about it. It looked like a good spot to have breakfast -the name is Milk after all-. When I read my fellow bloggers review I've seen lots of glass and lots of good photos potential so I took my camera with me.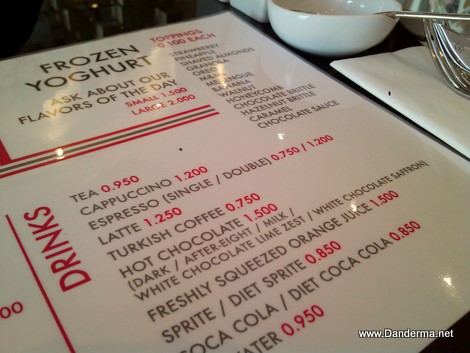 When I took out my camera and shot my first photo I was surprised with the message "No Card"! I forgot both my memory card and my emergency memory card at home! So I was stuck with the mobile camera phone which is again a big proof that I cannot take good pictures. The camera is good and not me.
For my breakfast I ordered Blueberry Pancakes.
They were fluffy and very tasty and came with a side of maple syrup and blueberry syrup. I enjoyed them ALOT. Butootee ordered an egg dish, was it the Denver? I am not really sure of its name though.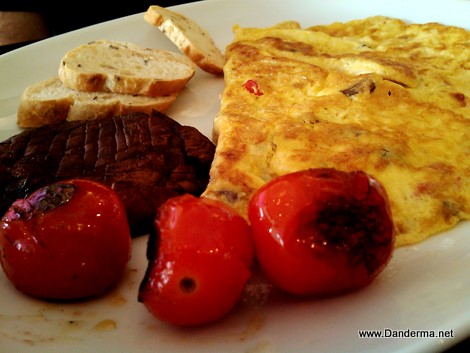 He enjoyed it especially the giant mushroom. But what we both enjoyed to the max was the hot chocolate! They bring you a huge cup of super frothy milk and a cube of chocolate of your choice on a stick.
Horrible quality pictures I know, but you get the idea. Anyways you take the chocolate dipper of your choice and dip it slowly into the frothy milk.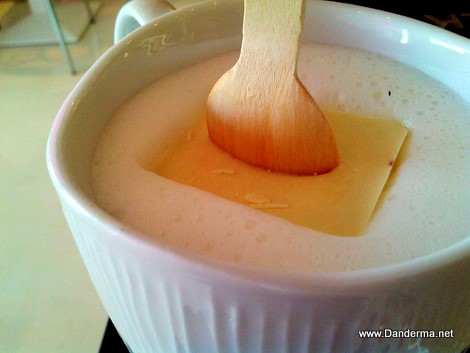 As you push the chocolate dipper in you feel it beginning to melt and mix with the frothy milk…
Looked what happened to the chocolate dipper… god I wish my camera could shoot that day!
We enjoyed playing with the dippers so much! They are also sold by piece and wrapped up! It would make an amazing party giveaway or as a gift for chocolate lovers especially in this weather. Well done! If only they made diet friendly Fat Free Sugar Free ones I'd be having one right now.
Our total came to 6.700 KD which is very reasonable considering other breakfast places to be frank. My Butootee praised the pricing -he handles the family finances :p-
To make things better… they have GLUTEN FREE CHOCOLATE CAKE! and if you are gluten intolerant you can take your own bread with you and they will make any of their sandwiches for you with your bread! How awesome is that?
Sorry Milk for the bad quality pictures. Frankly you deserve a MUCH BETTER review. My bad! I will go back insha2 Allah with my camera 😉
Milk Cafe is located in Al-Seif area right next to Burger Hub, Slider Station, Prime & Toast, and Pizzetta.
---
10 Responses to "Hot Chocolate Dippers at Milk Cafe"