My Bu Tootee always raves about how the Holy 7aram smells. He says when you put your head on the cool marble floors you smell the most amazing scent ever. I've never been there before fa I wouldn't know but whenever he speaks fondly of the smell that makes him remember beit Allah I feel I want to smell it too.
This year when he was in 7ajj he asked one of the cleaners about the mix they use to clean and scent the 7aram floor and the cleaner showed him. He says they use the Drummer + Al-Sirti's Ward 6aifi mixed together to wipes the floors which gives them their unique scent. So when he came home we wanted to try it.
According to the cleaner, in a bucket you add 3 full cups of Drummer.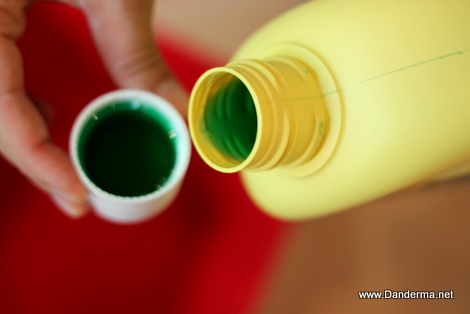 Then you add a cover full of Al-Sirti ward 6aifi. I didn't have Al-Sirti so I used al 7aramain's but I am going to go and get myself some.
Into the bucket then add water.
Voila! We tried the mix and according to Bu Tootee it is kinda similar but not the same to the scent of al7aram. Maybe we need to lessen the amount of water and increase the amount of ward? I will get the brand of ward they said they used and experiment eshwarana

If you know Al7arams floors scent mix please do share!
---
8 Responses to "They Say this is Al-7aram's Floors Scent Mix"