habitually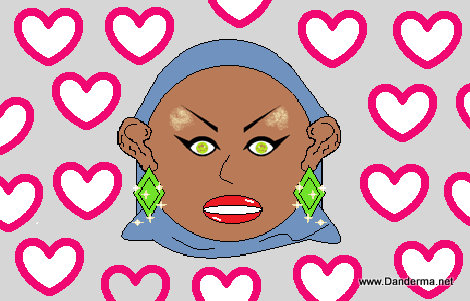 I first noticed this 7ejab style when I was in the airport this last Eid holiday. A Kuwaiti lady with her children were rushing in to check into their flight and she had this look. Its not the turban look no. Its a cotton 7ejab wrapped exactly like every one else except that its folded at each ear in a way that the entire ear shows. Of course on each ear lobe there was a huge gleaming earring. Showing the earrings is the purpose of this look after all.
I dismissed it as one lady with that look. But then over the Eid holidays in the malls I've seen more and more women wearing that exact same 7ejab style! Cotton, covering everything except the two ears peeking from below the two folds on the side, and huge earrings to decorate the ear lobes, reminding me of the old song in fereej el3atawiya "Tarchiya weya Tarchiya 9arat Tarachee el sha3biya!!!".
The look is weird and I don't like it. I'd rather people stick with their turbans if they wish to show off their ears. O ykon a7san if they take off that little piece of cloth and toss it somewhere else. Ya tet7ajeboon 3adel ya malah da3i hal halagat.
Next thing we'll see is two horns peeking min t7t el7jab. Y3ni new look!
---
14 Responses to "Habba Alert: 7ejab Bu Tarchiya!"