http://czechinthekitchen.com/2013/08/05/rhubarb-strawberry-and-wild-blueberry-pie/?share=google-plus-1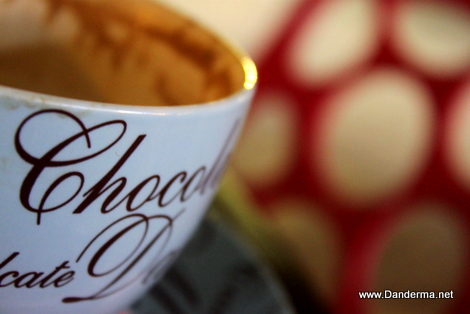 Chocolate Bar is one of my ever favorite hangouts in Kuwait. Many don't know this fact but I must confess that many Dathra episodes and Dathra book editing had taken place while sitting alone in Chocolate Bar. My me time is a day a week when I go to Chocolate Bar on my own with my laptop, order my usual, and lose myself for hours in the great weather outdoors and lip smacking food.
When Chocolate Bar Al-Bide3 in Arjan Complex closed down for renovations I was afraid they've decided to move out completely. Its been closed since August and finally they've reopened this week. Guess what? I received a DM from Chocolate Bar on twitter asking me to pass by their newly reopened branch on Sunday and I happily complied. Any excuse to visit the Chocolate Bar is fine by me :p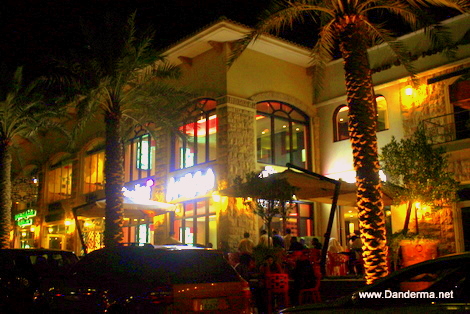 We arrived a bit late in the evening, almost ten pm on a Sunday night and to our astonishment there was a waiting list for an outdoors table! Don't blame people though I personally love Al-Arjan's cosy outdoors seating and insisted on sitting outside to watch cars and people pass by.
Amazing cold weather, red bricks, warm lighting calls for… Hot Chocolate! And where to indulge in an amazing "SKINNY" hot chocolate other than the Chocolate Bar?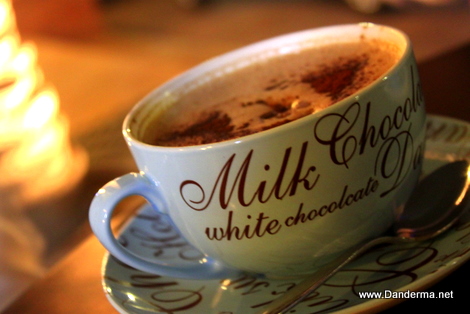 My personal favorite is the Spanish Hot Chocolate, Bu Toote's is the Mexican one. The French Hot Chocolate which is to much fun to assemble :p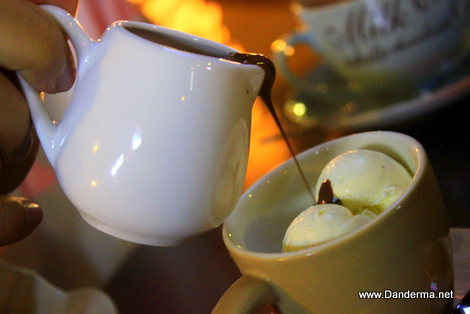 Mmmmm <3
On my good non dieting days I would have indulged in a Raspberry Milk Chocolate Molten cake. Oh well <3
Or their signature chocolate fondue! I wonder how many fondues are consumed on daily basis in Kuwait from the Chocolate Bar?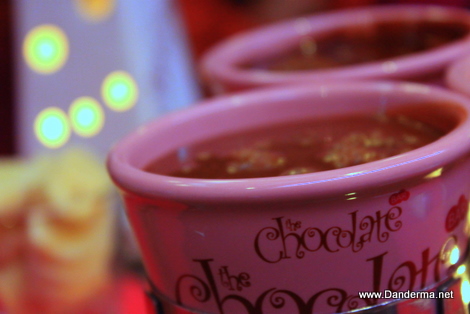 After getting the sugar overdose I went inside to take pictures of the new interior. A task that proved very difficult given that the place was chock full of people who began staring at me maliciously when I started snapping! I had to do it quickly and discard many of my pictures 7safa

But here is what I had managed to snap…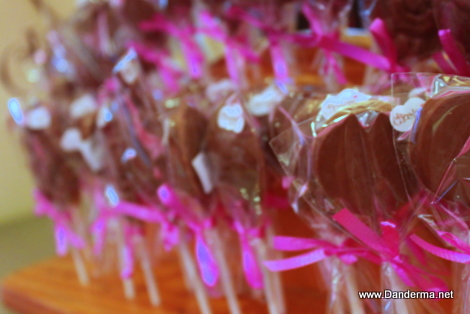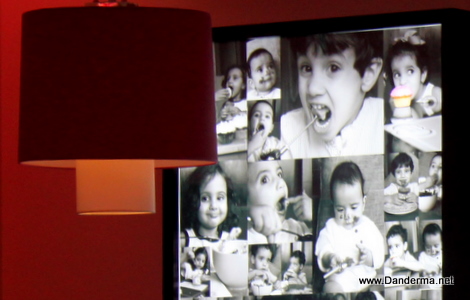 I am truly happy that the Bidaa branch has reopened as its one of my favorites and the closest to my home. Congratulations chocolate bar and hopefully your next branch would be a franchise in London 😀
---
6 Responses to "The Newly Re-Opened Chocolate Bar Al Bida'a"