Ayaviri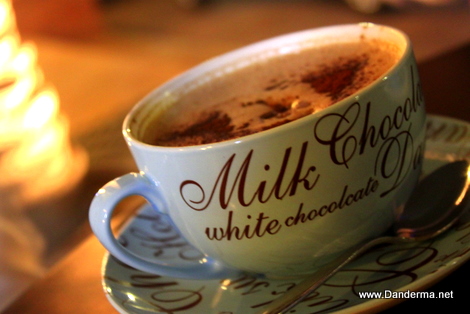 Finding a decent cup of hot chocolate in Kuwait is not an easy task especially for someone who is as crazy about hot chocolate as yours truly. However I have compiled a list of the best 10 perfect hot chocolate cups you may find in Kuwait. There is nothing better in this weather than a perfect cup of hot chocolate while sitting outdoors.
1- Milk's Hot Chocolate Dippers in Milk Chocolate flavor. The skimmed milk cup is HUGE and you can drink and drink and drink and enjoy to the max. The dippers are available for take away too!
2- Pick's Hot Chocolate. Very very VERY good! A must try. My current 2nd favorite.
3- Starbucks Hot Chocolate. If and only if ordered while sitting in, in their cup, topped with whipped cream. Stir the whipped cream until developed in the cup and drink. Otherwise don't bother!
4- Chocolate Bar's Skinny Spanish hot chocolate. The Spanish comes with orange zest which I adore but you can order the Mexican or the plain Milk.
5- Godiva's Hot Chocolate. It tastes better in the UK of course but its not bad at all in Kuwait.
6- Paul's Hot Chocolate.
8- KDD's Milk Chocolate. Heat it in the microwave for a minute, sprinkle mini marshmallows on top, and enjoy! Perfection.
8- McDonald's Hot Chocolate! Brings back some very fond memories of college of Engineering breakfast <3
9- Le Pan's Hot Chocolate. The flavor is not the best but the way you drink it, Heidi style, is the most fun in Kuwait especially with a scrumptious bread basket. Quite an experience.
10- Still contemplating position number 10 so I will keep it open for you guys to share and I will go try them out and see! What do you recommend?
---
31 Responses to "Top 10 Perfect Cups of Hot Chocolate in Kuwait"