buy prednisone 20 mg
Its no secret that my palates have been taken captive by the tantalizing chocolate milk dippers sold in Milk Cafe. I've raved about it on Twitter and Instagram. I've been there over and over just for a cup of hot chocolate.
I love that magic cube that transfers any hot cup of milk into the best hot chocolate in Kuwait. I love it so much I hailed it as the best hot chocolate in Kuwait (post) and I nearly went gaga when I heard they were introducing two new flavors: Kinder Milk Chocolate and MnM's Milk Chocolate last week. I just had to try them!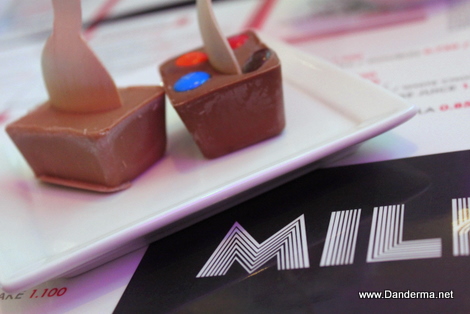 In my first Milk post I promised I would go back for a proper review and luckily I found myself with my camera in a working state by Milk's door on the day they released the Kinder milk chocolate. I took some shots of their interior which I find very simple yet very retro. The glass panels gives it a mid 80's disco feel.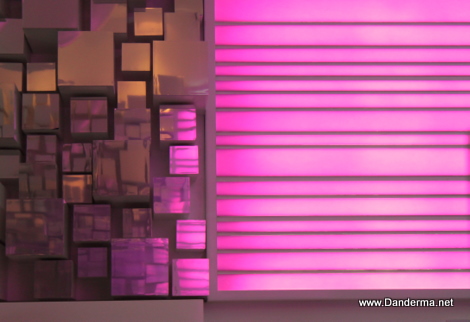 By now I've probably tasted most of their menu but I haven't tried their famous steak sandwich with sweet potato fries. So when Bu Tootee wanted to order a turky sandwich I made him order the steak one.
I stole a potato chip but it was normal potato not sweet potato. I guess that's why I didn't feel it was that special. The steak sandwich however made Bu Tootee very happy and he raved about it up until he fell asleep. Yes that good. Something about the sauce and the cheese and the tender steak slices.
We also ordered the savory crepe. Mozarella and pesto. I didn't try it as I am not a fan of savory crepes at all but supposedly it was good. Its drizzled by a balsamic glaze by the way.
They also had a "diet" croissant. It was made with healthy grains which I liked and came with a side order of jam and butter.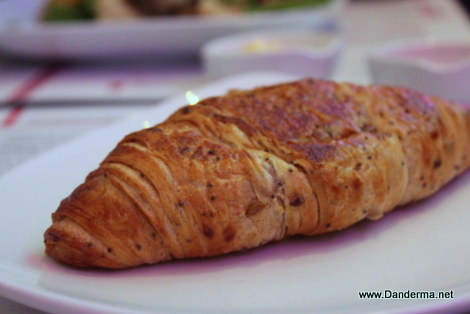 Now for the stars of the evening. The kinder and the mnm's hot chocolate dippers 😀
Dipped inside steaming cups of frothy skimmed milk.
Teree tereee….
That's my kinder. To be frank I thought it would taste better. It has a hint of kinder taste but its very mellow. I liked the milk chocolate better. Check out the mnm's!
The color of the mnm's is melting into the hot chocolate! Nice 😀
The mnm's is much better and stronger than the kinder. But still the milk chocolate one is the best of them all

At the end when we asked for the check we were presented with complimentary honeycomb pieces and chocolate covered honeycomb.

I'm not a fan of honeycomb and my braces can't handle them so I didn't try them but my Bu Tootee polished them off and was very happy.
Of course before I went home I took several milk chocolate dippers as takeaway :p If you follow me on Instagram you would have seen the bag :p I still haven't tried the mint hot chocolate dipper since it isn't available still but I will get around to doing so insha2 Allah 😀
By the way, Milk Cafe serve gluten free chocolate cake! And a pretty good one too! I've tried it before and took a picture with my iPad which is horrible but you get the idea.
Plus, if you want to try any of their sandwiches you can bring your own gluten free bread and they will make you the sandwiches accordingly.
Milk is located in Al-Seif area right besides Pinkmoon Boutique, Burger Hub, Pizzetta, P&T, Slider Station, and Cocoa Room.
---
6 Responses to "Review: Milk Cafe"