As a big fan of hot chocolate and chocolate dippers I was ecstatic when I found a big collection of chocolate dippers in one of the German Xmas markets held in the UK every winter -which I will post about later-. Check out the wacky flavors they have: Strawberry & Pink Pepper, Almond Raspberry, Cappucino Orange, Tarte Citron, Cassis Cardamom -Cassis shino b3d?- and many more!
Ako b3d Peanuts, Cherry Hazelnuts Anseed, o Ginger.
The non alcoholic chocolate dippers sell for £3.50 each. The alcoholic ones are more expensive o 9ej bel 6agag but check out how the alcohol is added, in a separate plastic tube!
Good Idea! I wonder if the tube ends are encapsulated in the chocolate dipper? If only they added no alcoholic syrups like raspberry or hazelnut or vanilla for example the flavors would be much better an more intensified!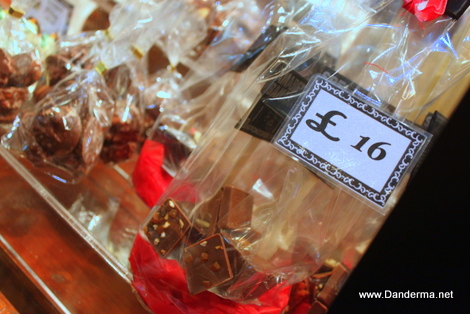 There are also gift sets with several different dippers and chocolate pieces sold for  £16 each. Can you guess what flavor I chose?
The flavor I chose was… Cappucino Orange! Coffee and Chocolate and Orange all together… Ya wayle waylah <3
I haven't tried it yet but I know it would be amazing. If you are interested in purchasing those from their German makers online store here (link).
---
---