We were walking around Covent garden when suddenly there was a hubbub and people were stopping and taking pictures. We stock in our tracks only to see the ugliest Ferrari I have ever seen in my life parked in front of us! Its a Ferrari limousine and painted in an MnM's orange color!
At first I thought its just a limousine that looks like a Ferrari. The idea of a Ferrari is to be fast and compact not a limo! I got closer behind the car and sure enough it is a Ferrari!
Then the Ferrari door opened and a European or American lady got in with her shopping. Thank god it wasn't owned by an Khaleeji man who was showing off! How the door opened was the only cool thing about that limo hybrid.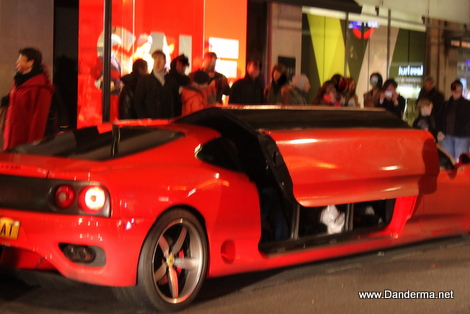 That Ferrari revved its noisy engine and went away. Why would anyone buy a Limousine that is a Ferrari is beyond me. Didn't even think it was possible. I wonder how much it costs?
---
---