I LOVE MAKINTOOSH…
it3arfoon makintosh mo? Quality Street Choco? The tin box u open it o get lovely smell o a triangular choco with a Mercedes Car sign o a purple one people fight about?
I was at the ma67ana today, o i found this…
At first, i thought it was a regular box of makintosh but a little bit glammed up…
6l3 noooooooooooooooooooooooooooo
It has 3 new kinds i have not heard of before…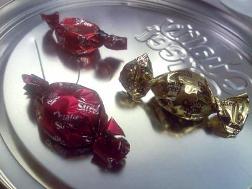 Please meet new flavour number 1: The Toffee Apple "Toffee with a jammy apple center in Milk Chocolate"… it is good for apple lovers like me 😀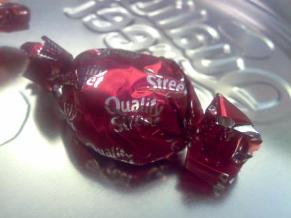 new flavour number 2: Treacle Toffee "Deliciously dark Treacle Toffee" Ble5 ble5 the taste of treacle is too strong for my licking!!! Etha bet3aqboon a7ad 36ooh ayaha…
new flavour number 3: Creme Caramel "Velvety Caramel Creme Swirled in Milk Chocolate"… this is my favourite!!! I hope it will stay forever!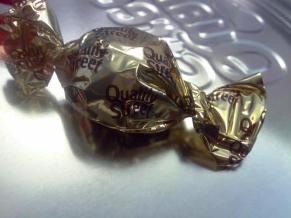 The whole box cost me 5 kd… because according to the ma67ana guy it came from london… but i think this time its fairly priced sra7a i would have bought it for 7 kd or 10 even to try the new ones…
so ilee ye7eb macintosh yarketh o ayeeb lah tin like i did 😀
and now… time to eat… bye bye!!!
P.S. I have a picture of me as a baby in some party or gathering, just walking, holding handfuls of makintosh o my mouth has choco smears b3d… i have always ALWAYS loved makintosh… my number one chocolate love 😀
---
28 Responses to "Makintosh Chocolate just got a Make Over…!"