Jāmnagar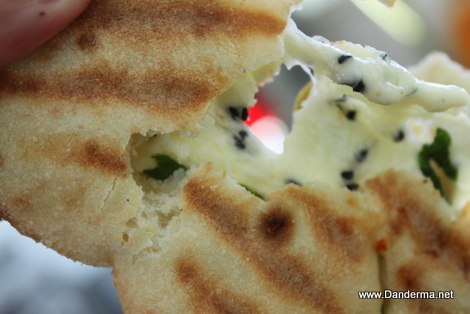 buy Ivermectin 12 mg Anyone who truly knows me knows that I am a sucker for something called "cheese & bread". Recently I've been craving grilled cheese sandwiches all the time so yesterday I was in Sultan Center Al-Shaab and I passed by their farmer's market corner. Immediately I know I found the ingredients for my dinner!
I chose a bag of fresh Egyptian Country Style Bread which I adore. Plus Low Fat Labna and Akawi cheese from Alban Dairy which are made fresh in their farm in Wafra. The first thing I did at home is taste the Akawi cheese.
I love Akawi cheese! If you've never tried it before its this very soft and stringy cheese that can be soaked for a while to get rid of its saltiness and then used in a variety of dishes: Qa6ayef and Konafa for example. I took a taste of it and it wasn't very salty. But I did soak it for a few hours just to get rid of a bit of its saltiness. It is so creamy and yummy and fresh <3
As I soaked it for a few hours, then rinsed the salty water. I took about a third of the round cheese and put it on my chopping board.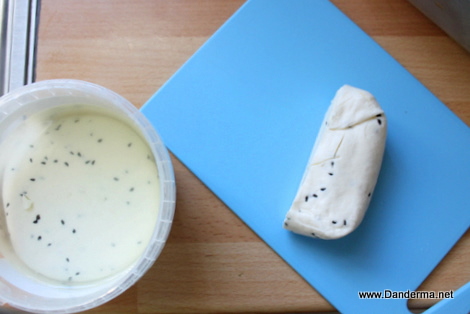 Added green olives and fresh mint. Pity I had no parsley.
Chop everything up.
Then open that lovely paper bag filled with fresh bread.
Smells gooood! Its brown bread by the way so its not just white bread. In every bag there are about 5 loaves of bread.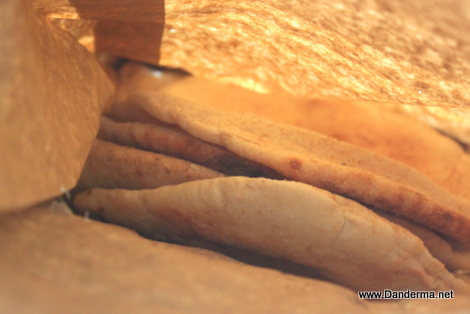 Cut a bread in half and open it gingerly so it doesn't tear.
Fill it with the chopped cheese mix.
Heat up the sub grill.
I don't like to put the sandwich directly on the sub so I put it on to of a sheet of foil and close the lid.
2-3 minutes later you will smell the most amazing aroma ever. Only then should you  open the sub's lid and look at your now ready grilled Akawi cheese sandwich.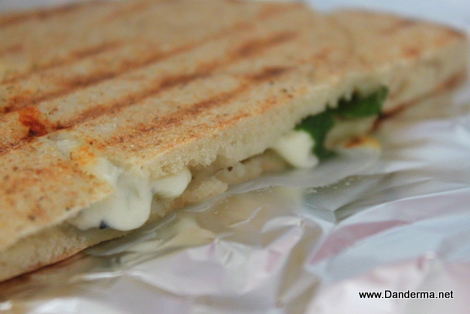 The cheese is all melted and smells good and its ready to be enjoyed!
Smells good, looks good.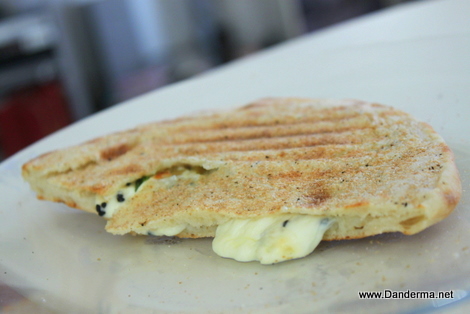 Coming closer…
All grilled and crispy on the outside and cheesy and most on the inside…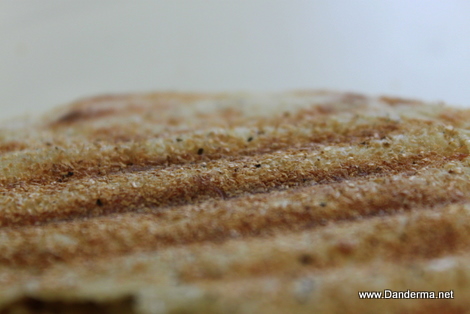 The sandwich is really really REALLY good…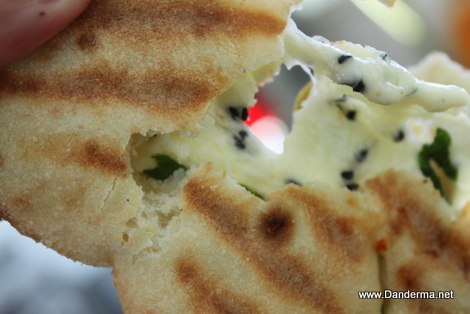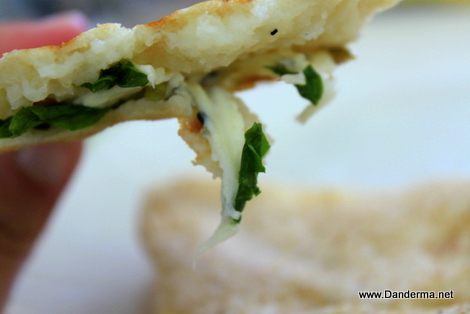 You can taste the freshness in each bite. Its so good you regret the moment there is only one last bite left

I can eat this sandwich every day, for breakfast, lunch, dinner, and dinner! Can you blame me? If I ever open a restaurant I will for sure add this sandwich to its menu!
The Akawi cheese and the Egyptian Country bread are AMAZING! Needless to say they are highly recommended. Their labna is amazing too -wait for my post  on it-.
Ye3taw?
---
25 Responses to "Grilled Akawi Cheese Sandwich"