I know that most Kuwaitis adore Amaya and consider it the best Indian restaurant ever. However I am not a big fan of the are plus their dress code is smart casual. So after a long day of shopping or walking around what is better than stopping at one of Amaya's sister restaurants from the same company, the casual Masala Zone?
The decor of the restaurant is in modern orange and silver and has two levels. The lower level of the restaurant over looks the kitchen directly where you can see the chefs cooking. The service are really friendly and very patient as they explain the dishes and even bring you some of them to try before ordering to taste the spice level.
Masala Zone also specializes in Thalis: a round stainless steel tray with tiny steel bowls filled with different types of food in miniature portions with a cup of rice in the middle and sauces as well. I love the concept of Thalis!
We placed our orders: one Vegetarian Thali for me and one Chicken Thali for Bu Tootee (chicken is halal, we checked). We also ordered Cheese Naan as an appetizer which was good.
Our drinks were good too. The mango lassi was really tasty.
My Masala spiced coke was good too. Regular coke with mint, lemon juice, and spices!
Really tangy and very different. I like it. Others might not though.
Then the Thali's arrived. Mine had a paneer cheese cooked in tomato gravy sauce. Bu Tootee had butter chicken if I recall correctly. Both with rice. Both were polished off to the last morsel.
A papadamus is included in each thali to dip into the mango chutney and the green sauce that I love but don't know its name.
Then there is the curry to mix with the rice.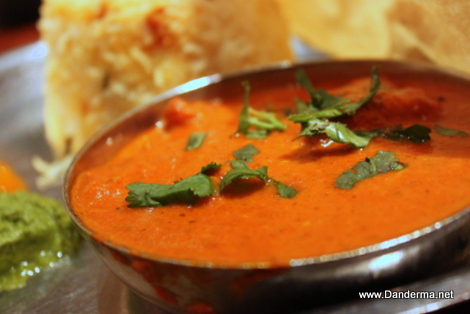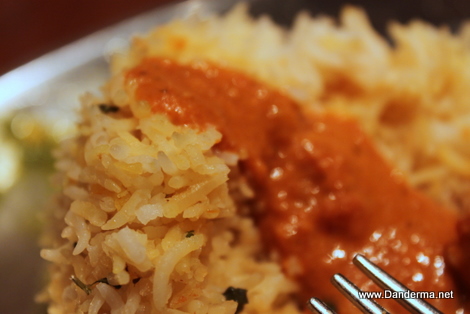 And there are still two mini dishes to be eaten. Either on their on, with the naan, or mixed with the rice and curry. First is the potato o the next is the vegetable of the day dish. There is a third daal mini dish that I don't have a picture of 7safa.
My favorite Masala Zone branch in the one located in Soho just behind Carnaby Street which makes it the perfect shopping lunch break spot. There are also other branches around London. For more information you can check their website (link) facebook page (link) or follow them on twitter (@masalazone).
---
8 Responses to "Things 2 Do in London: Masala Zone Restaurant"