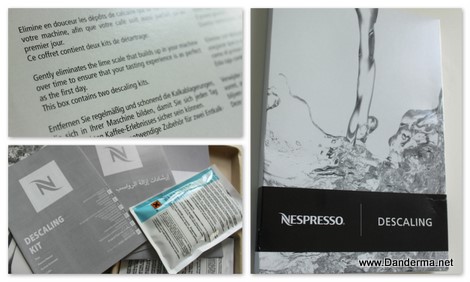 As a person who owns more than one Nespresso machine I know that sometimes the machines gets tired and you would have to take her to the Nespresso office for "cleaning". Only when I was in London this year was I told that there is a "descaling" kit for Nespresso machines to tune it up after a period of usage.
According to the salesman, after 6 months of usage if you notice the machine churning or not producing hot drinks as it used to it means its time to remove the limescale inside it and thus you use a descaling kit. The kit sells for around £7 only and contains two sachets of desclaing solution plus an instruction manual in different languages -including Arabic-.
I wonder if the Descaling kit is available in Kuwait though I highly doubt it? In any case you can always check. Descaling the machine at home sure beats taking it out to the nearest Nespresso shop and leaving it there until its done and paying extra for doing just that.
---
13 Responses to "Things 2 Get 4m London: Nespresso Descaling Kit"