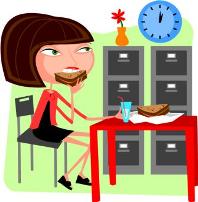 I don't know what else i can do. I think she is doing it on PURPOSE!
Here is the story… It is  between me, the waiter at the sandwich store @ work and i will call her L, and the poor mutated sandwich…
Take 1: Monday Morning at 7:40 AM
*Daddy's Girl is calling the restuarant below*
Ring Ring… Ring Ring
Me: Hello, i would like to order a sandwich plz
L: What kind of sandwich ma'am?
Me: I want cheddar cheese sandwich plz, two pieces of white toast, a slice of cheese, lettuce, tomatoes, and cucumbers. I do not want any sauce or mayo or mustard, and i do not want the sandwich to be heated at all plz.
L: ok ma'am, let me repeat ur order… blah blah blah
Me: Yes. Plz plz do NOT heat my sandwich plz. I want u to take the toast as it is from the bag and make a sandwich and send it to me.
L: Ok ma'am.
40 minutes later, im waiting… my coffee is now ice cold, and i must eat before 8:30 or i will be grumpier than the cookie monster…
Me: Hello? Excuse me i ordered a sandwich 40 minutes ago?
L: yes ma'am it's on it's way up!
Me: Ok
i get my sandwich after one hour. i am hungry, it has a huge hand written sign on the package that says "DO NOT HEAT SANDWICH"… i open it and…
VOILA! Not only is the sandwich heated… it is BURNED! The cucumbers and lettuce have been nicely cooked by the heat and the melted cheese which has lost it's taste is now hugging them warmly, making my stomach hurl at the though of eating cooked cucumbers… UGH!
ME: Helloooooooooooo
L: Yes ma'am?
Me: I asked for a non heated sandwich, it says on the package do not heat, i get my sandwich an hour late.. and IT IS HEATED… what kind of service is that?!?!?!?!?
L: im sorry maam i will change it
I did not change it, simply because it will mean that i will wait another hour, and what will become of the cooked sandwich? Will it be thrown into the bin? 7ram ne3mat allah!!!
So i suck it up and eat the hot sizzling melted cheese and wilted veggies sandwich…
Take 2: Wednesday Morning, 7:25 AM.
Today morning, i need to have a sandwich for breakfast to be able to function properly. I had no time to make myself one before i went out of the house.
I go down there my self to ensure the sandwich is made as i want, and i meet L in the flesh…
L: Good morning ma'am.
Me: Goor morning. PLease i want a cheddar cheese sandwich with salad and no spread. PLEASE DO NOT HEAT THE BREAD or the SANDWICH… please plase please DO NOT HEAT IT!!!
L: Ok maam. It will be 1 KD 250 fils…
Me: Ok… there you go *hands L money* but PLEASE do not heat the sandwich PLEASE… i want you to take the toast from the bag AS IT IS, put the cheese and salad inside, and thats it please!
L: OK ma'am ok ok
L goes to make my order, i keep a hawks eye on the kitchen… ahhh there is a platter of freshly made panins surrounding my lovely sandwich, the only sandwich made with toast, unheated, making it's way out of the kitchen and to L's hands for wrapping…
I take my eyes off L for a few minutes, while i say hello to a colleague, then L  hands me the sandwich her self…
L: Your Sandwich ma'am. Thank you, come again ma'am.
Me: Thnk you, have a nice Day…
 i go back to my cubicle, i order my skim milk and tea, i add the Sweet n low, open up my mail and news paper… i am so excited to dig in, i barely ate a thing since yesterday morning…
i open my sandwich…
AND IT IS HEATED…
IT IS ACTUALLY BURNEDDDDDD!!!!!!
IT IS SO BURNED SOME LETTUCES HAVE TURNED BROWN!!! BROWN!!!!!!!!!!!!
Tell me what to do with this L now?! Go and bang her over the head?!
Seriously Shasawee feeha?!?!?!? IS my order SOOO HARD?!?!?!?!?
What more can i do y3ni?! Haaa? E laish 3aad laishhhhh?!
I think she is doing it on purpose! There is no other explanation, even sheer stupidity is not applicable here…
---
18 Responses to "It's just a simple sandwich :`("