Well I am just back from my first day of my coffee making course and I have to say it was AWSOME! It feels good to be doing something new, different, and unique! Especially if its something you adore and enjoy!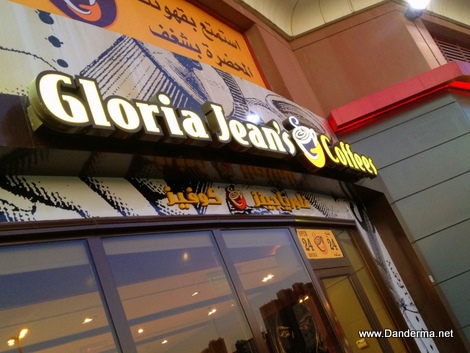 Sadly due to traffic I arrived fifteen minutes late, shameful I know. However I arrived to see Ms. Khulood Abdulsattar Gloria Jeans's Marketing and PR executive waiting for me. I was welcomed warmly by her and by the Mr. Subhi Yosef the store manager and by Mr. Wissam Wafa the operation manager. They totally made me feel at ease and very welcome!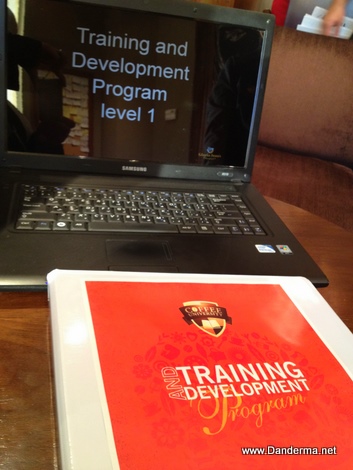 Then I was introduced to Ms. Jhoanna Mariano, the training coordinator who would be in charge of training me for the next five days. She is so great with an amazing sense of humor and I took a liking to her right away especially when she presented me with this surprise!
My very own Gloria Jeans trainee badge! It was a pretty nice gesture and it really made the whole thing sink in: I was going to train at a professional coffee course!  With a training manual and everything!
Mr. Wafa gave me a briefing in which I noticed he said that there is a coffee university in Bahrain where employees train! Why don't we have one in Kuwait? Also he promised to come and check on me daily which is pretty decent of him. Then the store manager Mr. Soubhi took me on a tour of Gloria Jeans that included a look behind the counter where all the excitement happens! Yay!
Above is the coffee machine, the heart and soul of any coffee shop!
Thermometers used to measure the temperature of the milk used in the coffee. Never knew those were used before!
The coffee grinders, the source of goodness.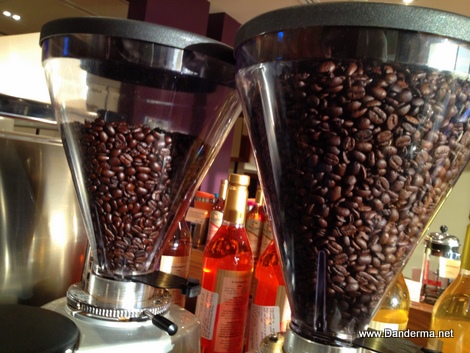 This scale is used to measure the weight of each cup of coffee after its being made to ensure correct proportion and quantity. Gloria Jeans Coffee is the only coffee house in Kuwait that uses this apparently.
I also noticed that they provided sandwiches and salads that are light, diet friendly, and with the calorie count on each item! Plus, they have sugar free caramel and vanilla syrups which should make The Diet Ninja very happy :p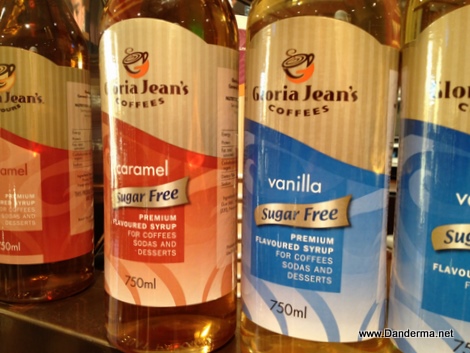 After the mouthwatering tour it was time to start day one of the course. I was offered a drink of my choice and I chose a black Americano coffee.
The course material for day one was about the history of Gloria Jeans Coffee, how it originated in America in 1979 as a gift shop but people kept coming and asking for the coffee made by the owner, Gloria Jeans, and then how it turned into a coffee house and a franchise from Australia! Fascinating. I always thought the Jeans in the coffee bran name was after the trousers jeans. It turns out its a name, Jean, as in X-Men's Jean for example.
Then we progressed on to learn about the coffee history. Meet Kaldi, pictured above, with his goat. Kaldi was a 3rd century monk who lived in Ethiopia and discovered coffee beans when one day he noticed his goat going hyper after eating the fruit of the coffee tree. Thanks to that malqoofa hyper goat we have coffee today 😀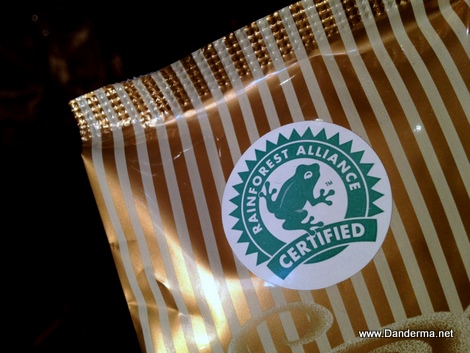 I learned about the different types of coffee beans, how they are grown, what makes a coffee bean so special, how it is grown and collected and roasted. A lot of usual information. I also was told about Gloria Jean's involvement with the Rain Forest Alliance. Given that Gloria Jean's coffee is sourced from Rain Forests therefore the Rain Forest Alliance is supported to ensure the welfare and sustainability of the workers and farmers that source the coffee.
In every bagful of Gloria Jean's coffee beans there is two small slits that allows the beans to breathe and help to maintain the freshness of the coffee beans, which I was taught about as well today too. If you smell the coffee beans throughout those two slits you would want to buy a 1 KG bag of beans and hug it like a teddy bear when you go to sleep!
I also learned what the A-A means :p By the way, did you know that the word "Mocha" is actually the name of a port in Yemen? The association with chocolate came because the coffee beans sourced from there has a chocolate like flavor. Never knew that before.
You can be a part of my exciting journey by answering the Question to the quiz below. The winner will be given a prize on my coffee graduation day! Now read the question, then click on the answer link provided for a chance to win.
Gloria Jeans Coffee Quiz: 
What is the difference between a regular cappuccino and a regular latte at Gloria Jean's Coffees?
1) Amount of foam
2) Weight of the drink
3) Strength of the coffee taste
4) All of the above
5) 1 & 3
Think carefully and place your answer here (link). Good luck!
Day one was mainly about learning the Coffee History including Gloria Jean' s Coffees History. I cannot wait until I start making coffee but that part of the training is coming up soon

Now excuse me I have to go study for my quiz tomorrow at the start of my 2nd day of coffee training. I will be using the machine too!
---
6 Responses to "Gloria Jeans Coffee Course Day 1 & Quiz for my readers"