http://drscottconsulting.com/category/growth/
http://bfnionizers.com/?wc-ajax=get_refreshed_fragments I will let you in on a little secret: at 11 am yesterday I was wrapped up in my blanket on my couch watching The Simpsons when I had an epiphany: I am not going to my own graduation! I chickened out, yes I did. I was terrified to my core. I wonder if being a wimp is one of my personal traits. Maybe it is. Anyways I scolded myself in my mind and said I have to go. Even if I mess up people would still drink the horrible coffees I will be making and forgive me, mo?
Then upon my arrival in Gloria Jeans Coffee and just as I was to open the door I was hit by another insecure terror: No one would show up! Everyone would say they had some emergency and cancel up on me! I will be left all alone with no one to make coffee to! But as I pushed through the door I found my dear Swera sitting there waiting for me and so were Q8 Path and El Padrino. I breathed a HUGE sigh of relief!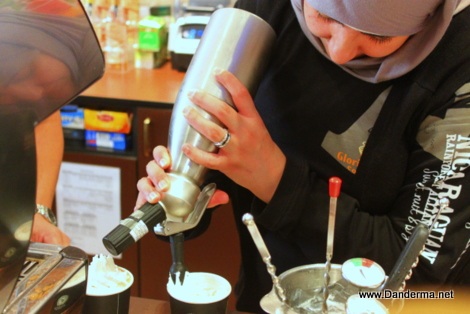 Soon enough the orders started coming in and I overcame my fear and started making coffee. It was me, the coffee machine, the milk jug, and the drinks I was making! I was happy, tired happy but happy! It was so much fun except for a hiccup when my own husband and el padrino decided to order something that wasn't on the menu and I freaked out a bit. But then I liked the drink so much I made one for me!
I look relaxed with the coffee machine. Of course that was near the end of my shift as I made a lot of drinks and greeted my fellow bloggers who arrived one by one with smiling faces and made my day! Thanks to each and every one of you who made it.
Then it was time to graduate! Mr. Subhi the store manager and Ms. Gloria my trainer gave a speech about my course and presented me with my certificate! At last 😀
My fellow baristas Winnie and April who were exceptionally patient and tolerant of my mishaps behind the counter got their employee of the month certificates as well. Congratulations guys!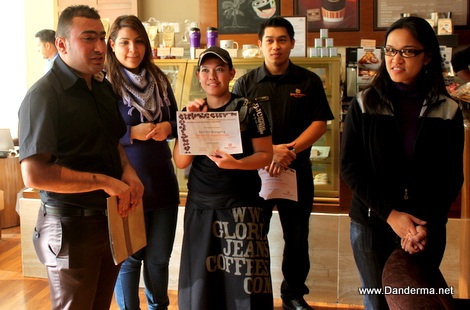 By the way my dear Pink Girl came with a graduation cap for me to wear when I receive my certificate which I totally did! Such a funny a very thoughtful gesture! Pink? I love you :* O I stole some pictures from her blog ;p
The winner of my Gloria Jeans Blog Quiz was also present, its my dear blog follower and avid commenter Hafsa and I was so glad to meet her! Here she is getting her quiz gift. I stole the picture from Pink too. Ma etgool shay akhayte

I went home with a camera loaded with memories and sore muscles plus this red plastic coffee cup cover where you sprinkle chocolate over your frothy drink and it will spell out your blog's name! Every blogger who attended got one. Such a nice gesture from Gloria Jeans marketing team indeed.
Thank you Gloria Jeans Coffee for allowing me to tick one of my 2012 new years resolution. It was a course to remember and I am going to miss every body! Gloria feels like home now!
Thank you to my fellow bloggers who made my graduation and took time of their cherished Saturday weekend to be there fore me. Thank you is not enough wallah!
You can read my fellow bloggers coverage of the event on these links:
Q8 Path http://www.q8path.com/kuwait_life/gloria-jeans-q8path-cappuccino-made-by-danderma/
965 Malls http://www.965malls.com/?p=3648
Swera http://crazyyetwise.com/2012/01/28/dandermas-coffee-course-graduating-gloria-jeans-coffees/
El Derwaza http://elderwaza.com/amer/events/dandermas-coffee-course-graduation-day/
El Padrino http://elpadrinoq8.com/2012/01/29/dandermas-graduating-gloria-jeans-coffees/
Pink Girl http://pinkgirlq8.com/?p=15045
Chikapappi http://chikapappi.com/2012/01/29/dandermas-graduation-at-gloria-jeans-kuwait/
Triple Sisters http://triplesisters.net/2012/01/29/dandermas-graduation/
and I can't wait for the rest to go online 😀
---
28 Responses to "Event: My Coffee Graduation Day"