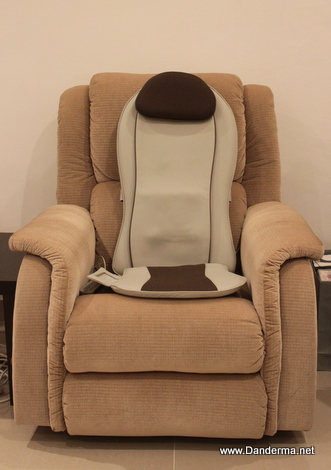 Ever since I could remember I have seen this horrible ugly chair in Kuwaiti homes. I've always hated it and thought it was the ugliest thing ever. Who cares if its comfortable? Who care that it can arch its back and extend its legs? Who cares if its called a lazy boy and is intended for the man of the house to sit on it like its a throne?
Its ugly. Its horrible. It goes with absolutely nothing. I used to banish it to Bu Tootee's office room but now there is no space for it hence the only place it can be displayed is my very own precious living room!!! Its ruining everything! Every time I look over and see it I want to cry! I want it out of the house, plain and simple. But the man won't let go. You would think I was asking him to give up a kid for adoption! He made it even uglier by putting a back massage device on it :'(
Do you suffer from the same horrible piece of furniture sitting in your living rooms? Do you have any ideas on how to mask its horribleness or turn it into something less of an eye sore? Would you be willing to break into the house and steal only it and I will give you a 150 KD for that?
Hmph.
---
17 Responses to "This horrible horrible chair…"