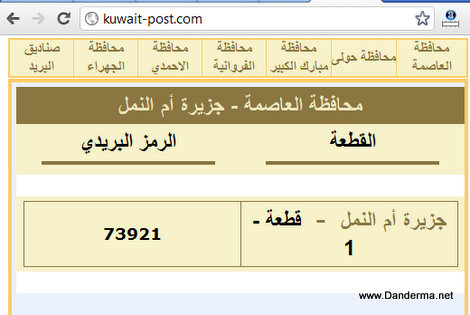 I was searching online for the post code of my new apartment when I found this website with Kuwaiti post codes (link). What is interesting is even though I didn't find the post code for Al-Zahraa I found the post code for… Jazeerat Um Al-Namil!!!!
Now who on earth would send a postal pacakage to um al-namil? El namil? La o block 1 b3d!!! eshm3na um al-namil mo um al-maradim mathalan? I've never ever received a single package to my home addresses when I lived in Bayan, Jabriya, or Zahraa, or in our mailboxes in Mishref and Dhahiya! Would anyone who is residing in Um Al-Namil expect to receive anything?
Anyways if you wish to send a post card -or a pif paf- to the ants in Um Al-Namil island you now know the post code. Its 73921, block 1. Sukkan el3a9ema b3d y7leelhom. I wonder which da2era intekhabiya ohom?
---
2 Responses to "Um Al-Namil Island's Post Code!"