What better way to spend an evening in chic softly lit surroundings sampling new desserts from one of the most famous bakeries around K-Town and giving your feedback on them? Can you think of a more perfect treat?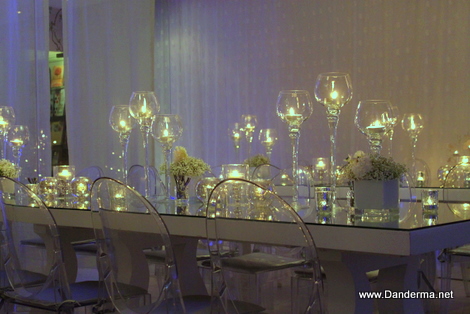 Lots of clear glass and burning candles everywhere made the table settings very relaxing, classy, and romantic. I'd love to host a sit down dinner with the same table setting and atmosphere!
If you follow me on instagram you might remember that I've once posted about a tea light holder that I bought and my husband hated and fought with me over it. Lo and behold, there it is in the middle of the table! Proudly standing and as gorgeous as I  predicted they would be! Ha-ha -in Simpson's bully voice!
Ms. Bibi & Ms. Jude Hayat, the sisters behind the November Bakery welcomed us for the tasting and explained  to us what we were going to do  that night. See the lovely dessert buffet below?
This scrumptious looking buffet is filled with new dessert items developed by Ms. Bibi and we were going to taste them and give our feedback on them. Two of which will go as new items on November's Bakery's menu! The good new? Those desserts are "light" made with apple sauce instead of butter and some are even GLUTEN free!   Kudos to November for thinking about gluten intolerant customers!
We were then asked to sit down to where forks, spoons, papers, and pens were handed out to us. One by one, trays of different little desserts were brought over for us to try. The first one was the Hassouni cake which both Bibi & Jude seemed to be the most excited about. Named after their brother because its his favorite, its a banana nut cake covered with fluffy banana frosting.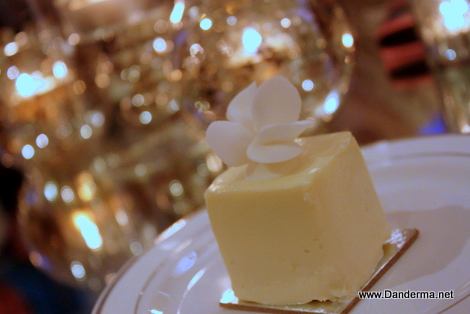 This is me bothering Pink Girl for a picture as she tried to take a bite maskeena :p
Next came November's own Oreo cookies since they do not use the mass produced ones sold everywhere else.
Next came the new truffles: Lemon Coconut and Mahalabiya Dates.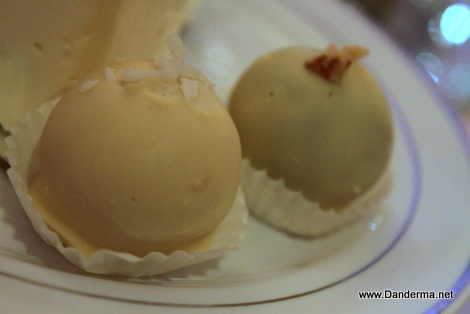 This is my second favorite dessert in the collection: The Chocolate Chip Cheesecake Slice! Its sweetness comes from the chocolate chips only so you get a salty bite and a sweet bite! Amazing!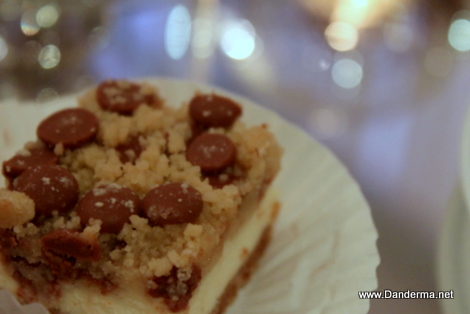 Chocolate covered brownie squares.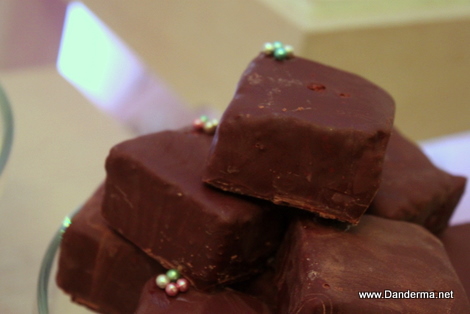 Rice Krispie balls.
Another version of the 7assouni cake but in a cupcake form.
My absolute favorite was the tiny Raspberry Strawberry & Chocolate trifle -it has another name bs ana samet.ha trifle-… I simply adored it <3 So much that I attacked it and didn't even take a picture of it so I stole pink girl's picture. 7beba matgool shay

Of my opinion I wrote and I wrote and I wrote. I love to write garga!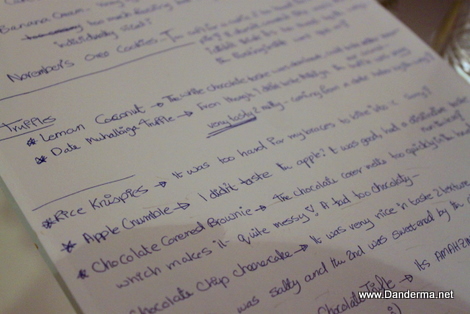 The aftermath…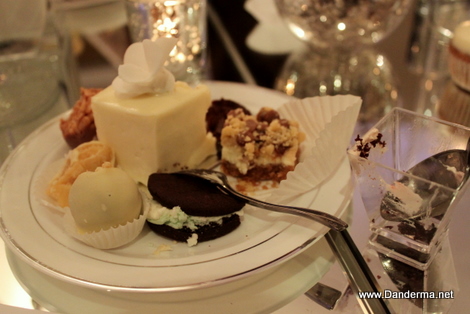 Wait we weren't done. Just as we thought it was time to say good bye small cups of delicious and creamy hot chocolate were served. The cup had two sips maybe but it was heartwarming and really good!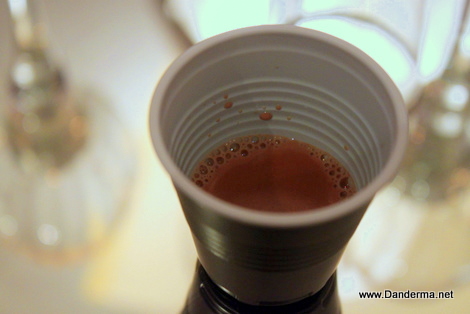 We capped our experience with a delicious and much needed cup of espresso!
Thank you Bibi & Joud for your invitation. We had a sugar fuelled night that kept my mood on high until this moment

November Bakery is located in Al-Tilal mall and they are well known for their delicious cakes, gorgeous flowers, and sensational event planning. You can know more by following their website (link), their Facebook page (link), their Twitter and Instagram @NovemberTweets, or give them a call at 2225 3445/6
---
4 Responses to "Event: Novembers Bakery's Tasting"