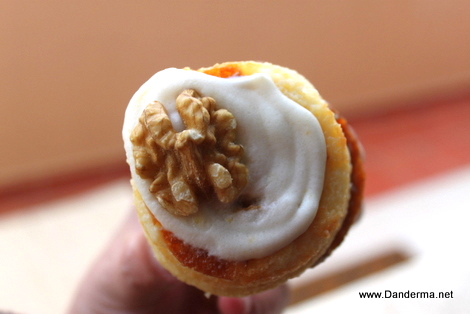 It's been a while since the last Life with Cacao monthly highlight! I think the last one held was back in Ramadan (post)? Anyways Life with Cacao is back on track again with one new highlight for the month of March. It was sent to my apartment in Life with Cacao's signature box a few days ago.
With the following message.
Inside was two boxes containing a Carrotina cheesecake prepared by the owner of Yummzy Bakery Ms. Abrar Al-Dakheel.
One box contained the carrotina while the other contained the decoration of the Carrotina. Sadly we couldn't assemble the Carrotina on a plate with the decorations since we still have no sink to wash the plates until next Saturday.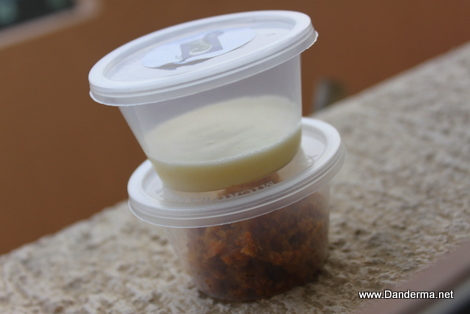 However, the Carrotina itself did not need a plate to be enjoyed. Its description according to the brochure is "A fluffy and moist carrot cake, topped with a layer of cheese-cake and finished by a tangy cream cheese frosting". It also had a mint leave on the bottom and half a walnut on top to decorate it.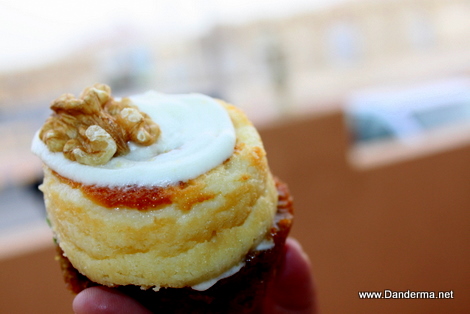 How was it? It was really good, light, moist, and very tasty indeed! Well done! The only thing I have to say is that the frosting had a tangy lemon taste to it. I usually like the lemon taste in frosting but in Carrotina's case the carrot cake is already distinctive it didn't need the lemon touch. It was a bit too much. It was gone in a matter of minutes.
Good job Abrar and keep up the good work! Thank you life with cacao for remembering me in your March highlights

Carrotina is now available on Life with Cacao's menu for the month of March. Life with Cacao is located in the ground level of 360 mall. For more information regarding Life with Cacao or to contact Life with Cacao to showcase your product as a highlight or check Life with Cacao's facebook group (link) or follow them on twitter (link).
---
7 Responses to "Carrotina, Life with Cacao's March Highlight"