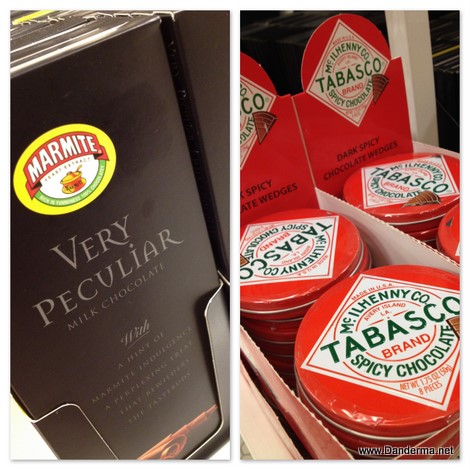 Selfridges chocolate hall had, since last December, been selling two new "peculiar" flavors of chocolate: Marmite and Tabasco!
I am not a fan of marmite at all so there is no way on earth am I going to try its chocolate, urgh! But the tabasco one? Every time I pass by I look at it, grab it, imagine it would taste like chili chocolate, almost buy it, then put it back because I don't like tabasco either. Tantalizing for sure but I am very picky and wouldn't want to waste money on a bite of chocolate when I can buy many more other types of chocolate.
What do you think? Have you tasted any of those chocolates or known someone who did? Would you buy them either to consume or as a cruel souvenir joke for example? Would you taste any of them?
---
10 Responses to "Would you eat those chocolates?"