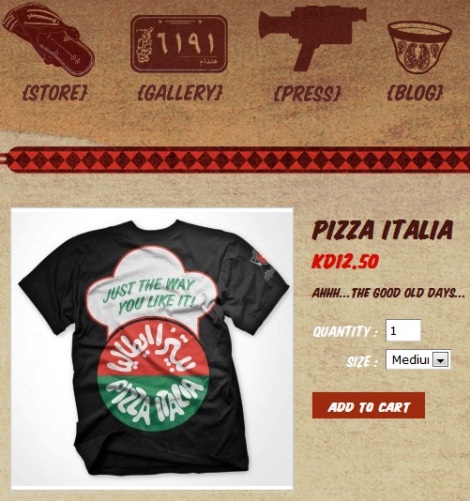 Early this morning I was browsing through the Instagram pictures when my eyes fell on the T-Shirt above from Capital District Kuwait. I was in love immediately!
Pizza Italia logo on a black t-shirt! Now that must not seem like much but to someone who lived through the prime days of Pizza Italia it just hit home! This is when fashion makes you want to dance, to sing the jingle of Pizza Italia's ad, to go back in time. There is no need to say that I've placed an order right away for one pizza italia t-shirt and I've been singing the jingle ever since this morning! If only they didn't have to close down 7safa 3lehom

7elwa mo? Etyanin! I've always loved Capital District's designs and the latest designs do not disappoint. I am also a self confessed T-Shirt-holic. I cannot resist T-shirts!
If you want one you head over to Capital District's website (link) and place an order for one. I can't wait for mine to arrive 😀
---
6 Responses to "The Pizza Italia T-Shirt from Capital District"