In a dark alley right besides Solo Pizza Neapolitan sits a little burger joint sporting a very hip identity of not having a name or a sign on the door, the name is Hashtag Burgers.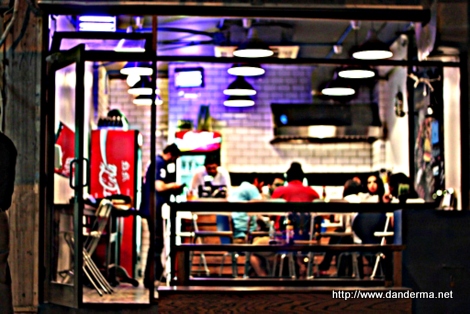 Hashtag is a local restaurant that is the brain child of the guys behind Solo Pizza:  Amr Al-Refaei & Dhari Al-Huwail. Yesterday was their first day in operation and therefore we decided to pay them a visit. Bu Tootee adores burgers and couldn't wait to try theirs.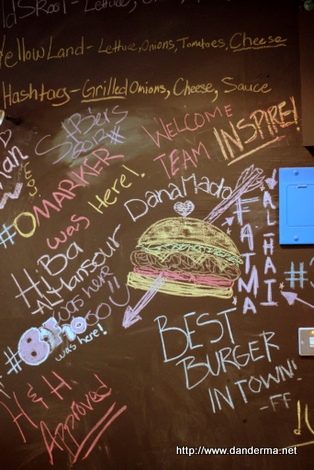 The way things are done in Hashtag is that you take a look at their menu on the black board.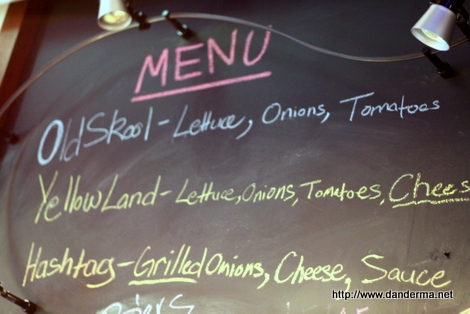 Then you go to the counter, place your order, and pay.
Then you take your seat and wait for your order to arrive. While we were there the place was already full so we decided to sit at the stalls by the big mirror.
As we waited I saw the chef, Dhari Al-Huwail, cooking the burgers from the big mirror.
So I took the camera closer to the action.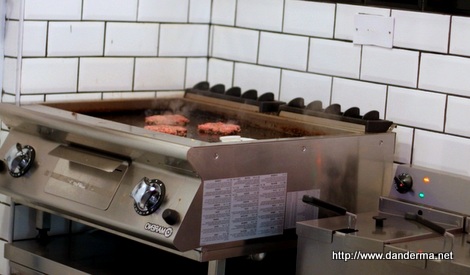 The kitchen is open plan yes but the ventilation is right so you will NOT smell anything or have the cooking smell on your clothes.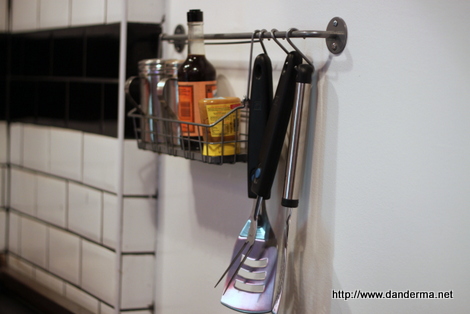 Here is the Hashtag burger with the special sauce being poured on top.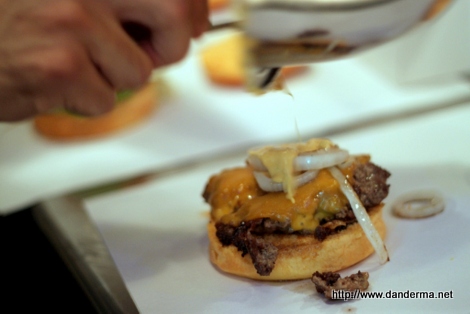 It took mere minutes to have the order arrive at the table. Very quick and prompt for an opening day masha2 Allah! Its a good thing because the man was beginning to get very very hungry. First were our drinks, St. Pallegrino's lemonade and orange. I love St. Pallegrino's! Now those would go really well with Solo's pizza too!
Next came the Hashtag burger. The bun was so pillowy soft and had an orange hue!
The hashtag fries: generous portions, crunchy, and beautifully seasoned with a hint of paprika.
This is the only picture I could take of the burger before it was devoured by Bu Tootee! I tasted a bit of the bun and it was really really good! He loved the burger and it was gone in a matter of seconds. Once it was picked up from the white box, it never came back.
Dinner was over in ten minutes and we had paid already so I took pictures of the place. Tiny but well decorated. I also loved the music they had on, my current favorite song Titanium started playing which made me even happier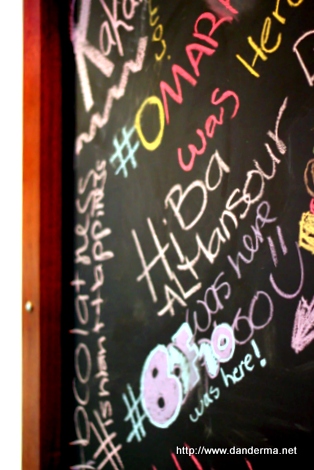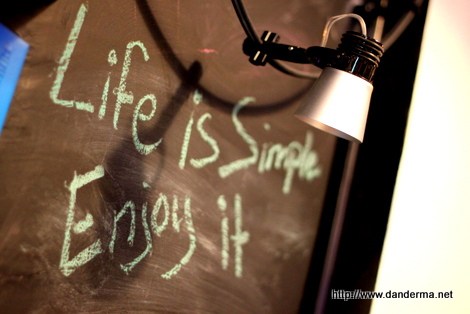 Y7leelha elzar3a! Very cute

Before we finished we were presented with a celebratory cheesecake. Now I am NOT a fan of cheesecake at all but this one, it had clumbs of chocolate nestled between the folds of cheese and those clumbs made the cheesecake something to die for! Now for the eternal instagram question: min wain hal ka3ka? Min wain min wain min wain?
Dhari's apron with the hashtag logo on, very nice!
Bu Tootee & Dhari smiling for the camera. Great job Dhari!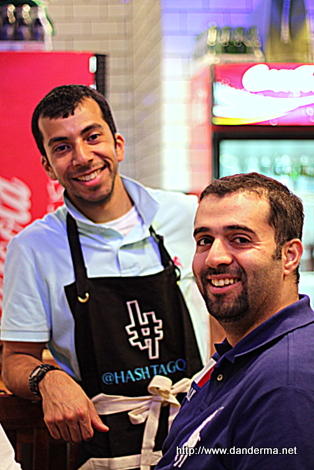 And making the Hashtag sign!
Check out Dhari's business card, very effective indeed :p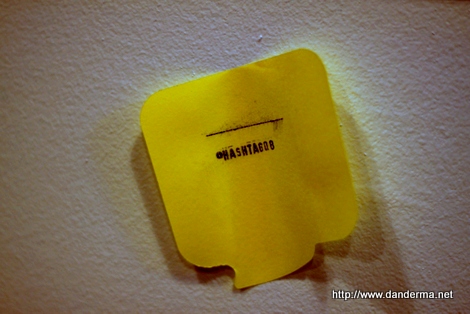 Before we left we signed the notebook. My Bu Tootee had drawn a little burger which, knowing him, meant he was still thinking of the burger he had just eaten.
For more pictures of Hashtag's burgers you can check The Diet Ninja's post (link). Nice one sensai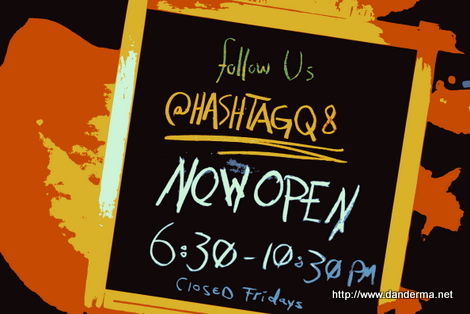 Hashtag Burger is located right next to Solo Pizza Napulitana and are open daily from 6:30 PM to 10:30 PM Saturday to Thursday. For more information and updates you can follow Hashtag Burgers on twitter (@hashtagq8). Lay6oofkom!
Dhari & Amr, congratulations on a job well done! We are proud of you

---
12 Responses to "Review: Hashtag Burger"